By Raffique Shah
January 31, 2022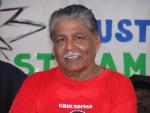 If there was anything shocking about the non-appointment of a new Commissioner of Police, the simultaneous publication of the retired Justice Stanley John's report and the stench that emanated from the innards of the records room when its files were opened, it was the surprise expressed by citizens over the scandalous state of affairs in the Police Service.

When I read the Sunday Express headline that excited most people—"A well-oiled criminal enterprise"—I almost yawned and turned to other news and features in the newspaper. But curiosity got the better of me, and I read extracts from what will henceforth be known as "The Stanley John Report", hoping to see names and the amounts that policemen and whomever else were involved in this lucrative racket were alleged to have taken as bribes.
Of course, there were no names since the report will be treated as allegations until they are substantiated or dismissed. But with everyone on anti-social media and mainstream newsrooms chiming in on this latest scandal, I smiled and said to myself: this country is really the land of nine-day wonders. Something crops up and in no time it displaces stories like this one, only to repeat the circuit over and over again.
How many of those who saw in this guns-for-bribes scandal, who are very disturbed that this is where the Trinidad and Tobago Police Service has arrived 60 years after the country gained independence, recall the Scott Drug Report that was a damning indictment against a long list of the most prominent policemen at the time (mid-1980s), a Who's Who in the highest echelons of the narcotics trade in the region, politicians, scamps, rogues and thieves?
Who remembers that document that landed in then-Prime Minister George Chambers' lap, with everybody who was anybody with rank or access to "rankers" dying—many times, literally—to find out if he or she (yes, some high-society women were named as cocaine dealers or addicts) had "made" the infamous list. Chambers kept it secret, but later, copies were "leaked" to the media, much the way this report of lesser importance landed in a reporter's mailbox, presumably. Nothing ever came out of the Scott report.
The Stanley John Report is of significance mainly because it is said to contain the names of persons who applied for, and were said to have been granted, licences to own and use firearms; and in what the Express has featured thus far, some of the applicants had lotto-like luck, literally licences to own and bear up to scores of firearms. Understandably, and especially when Gary Griffith, who was Commissioner when much or all of these approvals were granted, said such multiple-armed citizens will be strategically available to render assistance to the police with their mini-armies, citizens started asking questions.
Because hundreds, maybe thousands, of people had applied for Firearm User's Licences (FULs) over the years, but theirs were rejected or never considered. When Gary Cooper…er, Griffith, rode into Grudge City announcing "arms for the armless", these people's hopes had risen: at long last, we will get us the guns we desperately need to protect ourselves.
But the vast majority of the applicants remain armless, while those who appear to wield influence—be it by the size of their bank accounts, their social standing or colour of their skin—are walking around like gods.
Now, I need insert here a declaration that post-army-cum-mutiny, I never applied for a FUL, not even when my fellow MPs of 1976, on all sides of the political benches, started to look like cross-bred James Bond and Django. Only Dr Eric Williams and I remained armless—for different reasons, I think.
During training in England, I fired weapons from revolvers and pistols through rifles and machine guns, and even had a go with heavy artillery—the 105mm pack howitzer and everything in between.
At age 30, I didn't trust myself with guns. What with all kinds of stupid people walking around saying stupider things, I might have been tempted to put them out of their misery. Dr Williams, as far as I know, did not like guns around him.
But there was another reason on which we both found common ground. How many FUL holders have successfully used their firearms to defend themselves and their families? Very few. Instead, they have been so irresponsible handling firearms, it's shameful. Worst of all, criminals have taken these same weapons and used them against the holders and other citizens. Arming the citizenry is no solution to the crime problem.
Those FUL holders who paid outrageous sums as bribes to secure weapons should probably retrieve their money, return the FULs and save themselves from being jailed alongside those who granted them.