By Raffique Shah
December 13, 2021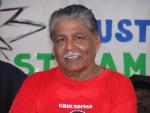 Okay, I am prepared to give the new governor of Tobago one-half an apology for writing last week that he is a fool. "Be nice to the young man, nah… he trying to put together an energetic team to first salvage, then turn around the island's economy…"
I gather as much, I responded, listening to him speak… But you and I know talk is cheap and promises even cheaper… until we see hard evidence of his performance, I shall stick with the half-apology.

At which point we ended our conversation on the phone, this old Tobago friend whose judgment I trust. He remains one of the dreamers of the 1970s, young back then and full of energy. Most of us of that era were similarly eager to see our vision for Trinidad and Tobago, for the Caribbean, hell, for the whole world, materialise. We could not wait to incarnate as Shiva-knows-what to see Utopia.
I felt sorry for him. He had gone and declared his hand in the new configuration of Tobago politics, quietly promoting Watson Duke's Progressive Democratic Patriots, which comprehensively chucked the PNM out of the Tobago House of Assembly. While I was not surprised that the PNM was beaten, as those who read my column last Sunday will have noted, the degree of the rout was what shocked most pundits. In retrospect, I recall Saturday night before the election, I quipped in disgust as my family watched the television news: oh Lawd… let Sunday midnight come quickly and deliver us from this oppressive advertising campaign mounted by the PNM. I know not who was the Goebbels behind such waste of resources, but I would be surprised if he or she still controls the party's propaganda machine.
There were other factors, of course, two of which I identified last week: delivering on promises in the final minutes of campaigning, and apparent victimisation of non-supporters of the party. These will have turned off even supporters of the party.
The PNM has a huge task if it hopes to recover in Tobago. Thus far, 41 years after the current constitutional arrangement was effected, the two main contestants have each had 20-year runs. Pending a pattern change, it will be a long time before PNM controls Tobago again… unless Duke runs true-to-form and destroys the vehicle that he fashioned and built in his image and likeness.
Which brings me back to Chief Secretary Farley Chavez Augustine and why I agreed to give him half of an apology, not the whole hog. I should note here that Prime Minister Dr Keith Rowley seems to have set the nomenclature that goes with high office when, in the 2015 election, his middle name "Christopher" was revealed to the public, and his senior aides took to stressing the Keith… Christopher… Rowley. No more "Keithos" or "Rowley". So Farley has brought into focus "Chavez"… and we'd better note it and use it, or else…
My reason for offering only a half-apology for referring to him as a fool—and I can say with confidence, Farley is nobody's fool (he'd better not let me down on that)—I meant his almost blind acceptance of Duke as his leader, that in spite of the man's past, hell, even his present. Sure he is flamboyant. He redirects his every move, be it the trade unionist engaged in protest or the statesman-on-the-wing about to take Tobago into its own orbit, as theatre where he is director, producer, actor, clown, buffoon, everything.
Many people support him because of these qualities, not in spite of them. My problem with Duke is the same problem I had with Jack Warner when he first parachuted onto the political stage, thanks to Basdeo Panday then, and to Kamla Persad-Bissessar now, except that whereas actor Panday had the starring role, Persad-Bissessar has to settle for a bit-part, play fifth-fiddle to the Jester, but the show must go on.
Now, I have a serious problem with people on the whole, and in particular with politicians who absolutely disregard allegations of serious corruption against persons with whom they fraternise, hiding behind the fig leaf of "innocent until proven guilty", fully cognisant that the boardwalk between the two points is strewn with rusted nails and other toxic traps set for the forces of law, order and justice, and that the guilt of the guilty often never makes it to justice dispensed, leaving them to look lily-white while their hearts are infected with inflammation of extreme toxicity that invariably and inevitably contaminates everyone around them.
I recall a study that was conducted some years ago that showed that some 40 per cent of T&T's GDP disappears in a maze of corruption. That is money stolen from the people of this country.
Farley, Persad-Bissessar, and whoever cuddles these criminals, God may forgive them; I won't. I shall die poor but proud I never stained my hands.