By Kevin Baldeosingh
November 20, 2021 – trinidadexpress.com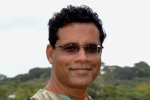 In virtually every statement issued by the Ministry of Health (MoH), the public is assured that this is a "pandemic of the unvaccinated".
My question is, how do they know?
If the MoH has been doing contact tracing that proves unjabbed people are the ones infecting others, they haven't said so.

Instead, it seems that, because the majority of Covid fatalities are among the unvaccinated (or "not fully vaccinated" —the MoH presser team seems unsure which), the inference is that the unjabbed are also the spreaders.
Obviously, this does not necessarily follow, since the Covid shots are now known to reduce deaths but not prevent infections or transmission.
Full Article : trinidadexpress.com