By Anika Gumbs-Sandiford
July 10, 2011 – guardian.co.tt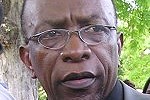 The overwhelming popularity of Works and Transport Minister Jack Warner has a part to play in him being cut down to size in the recent Cabinet reshuffle. A plan, Sunday Guardian understands, was hatched to frustrate Warner out of the Kamla Persad-Bissessar led People's Partnership (PP) Government, mere weeks after her resigned as vice president of FIFA. There had been rumours circulating more than six months ago that the PM had plans to split Warner's ministry. Warner however, was unaware of this.

High ranking party sources confirmed to Sunday Guardian that certain senior Cabinet colleagues took issue with Warner's performance and growing popularity, especially among the grassroots. Warner's popularity had also begun to overshadow Prime Minister Kamla Persad-Bissessar who is the leader of the PP coalition government. Warner's increasing popularity was working against the image of the Prime Minister and decisive action had to be taken to change this.
There has been "a cabal" within the Cabinet made up of at least three members who have the ears of the PM. It was based on the advice of these individuals, party sources said, that Persad-Bissessar made some of the "shocking changes" within the PP Government. And Warner is not the only Cabinet member they have been attacking. Sunday Guardian also learnt the ongoing row with Caribbean Airlines Ltd (CAL) chairman George Nicholas who is a huge financier of the PP, also played a role in the decision to shaft Warner.
Full Article : guardian.co.tt