By Dr Selwyn R. Cudjoe
August 16, 2021
PART 1
"I maintain that art at its best reveals to us the fullness of what it means to be human."

—Ben Okri, The Theatre Diaries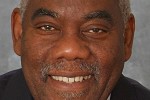 No creative personality writes, paints or sculpts outside of his/her time and place. Necessarily a product of his history and his geography, s/he always tries to cast a light on the perils that confront his people. In so doing, s/he reflects on the truths and failings of humanity as well. LeRoy Clarke, our master-blaster, resided in that elevated region of greatness. He took on the persona "The Eye" to illuminate the perils that confronted his nation. In the words of our Orisha devotees, he was a Seer (he would have said Obeah) man, who strove assiduously to illumine the darkness that enveloped his people.

In his painterly and poetic works, Clarke, our pointer man, sought to lift us out from what he called a state of Douendom or a realm of disembodied spirits-a space analogous to Dante's Ulysses from which our first prime minister took the title of his autobiography (Inward Hunger)—to the heights of El Tucuche, "the ubiquitous Head," and Aripo, "the mystery of God way above human possibilities," wherein lay our true salvation. His quest was influenced by European theorists of phenomenology, Africans myths, rituals and philosophy, Trinbagonian mythology, and what he called "the stunning voltage of Wilson Harris's magnificence, if only for the poetic virility with which he probes the mysteries of our landscape, seeking its sole verifying edict" (Parables of Our Joyless Days).
Clarke's admiration for the painterly skills of Romare Bearden, "the very distinguished Afro-American artist," prefigured much of what he did as an artist. He said of Bearden's work: "In that juxtaposed and superimposing manner of various mediums in making textual associations, conceptual narratives that define his experience as pictures—the jazz character which is a seminal energy arisen from his world-community's grounding, is at once, a rugged, rhapsodic prose that affirms the Spiritual, Negro, but a defiance, claiming its African!" (Parables).
Clarke was born in Gonzales in 1938 and died in 2021, which means he spent his first 24 years under colonial rule and experienced the birth pangs of postcolonial Trinbagonian in his last 59 years. Therefore, his work embodied the traumas of a dying colonialism and the hopes and aspirations of a nascent society. Although he began his artistic journey as a lone star, he emerged as a loadstar of our future cultural development.
LeRoy did not arise ex nihilo (that is, out of nothing). His work is part of a diachronic process (his words) that began with the landscape paintings and portraits of Michel Jean Cazabon (1813-1888), the son of a Creole French landowner, one of Trinidad's earliest painters. Cazabon studied in England (at St. Edmund's College), in France (at the Academie des Beaux-Arts, Paris), and Italy before he returned to Trinidad in 1845 to pursue his work. Like Clarke, he had to taste/test the outside world before he settled down to do his work at home.
Cazabon's chief preoccupation was to name the land in which he lived. In doing so, he brought the local landscape into the realm of social consciousness, something that no one had done previously. However, where Cazabon described the surface reality of our society, Clarke grounded his work in the metaphysical reality of the society, using the myths, rituals and iconography of African religions (orisha) to express the inner meaning and rhythms of our people.
Although Clarke was loathe to admit it, he was doing what other progressive Caribbean artists of this time, such as Wilfredo Lam, were doing: he was seeking to plumb the subterranean level of our spiritual reality. Whereas Lam, a cultural mixture of Chinese, African, and Spanish heritage, drew on Santeria, an Afro-Cuban religion that was developed from the customs and beliefs of the Yoruba people, Clarke found his inspiration in the indigenous religious and mythical resources of his people at home.
Lam decided: "I wanted with all my heart to paint the drama of my country, but by thoroughly expressing the Negro spirit" (Quoted in Juan Martinez, Cuban Art and National Identity). Because of this emphasis, Lam's work "was revolutionary in overturning cultural hierarchies through its emphasis on Afro-Caribbean culture. He developed a unique style that represents a highly distinctive point of convergence between modernist movements on both sides of the Atlantic" (Matthew Gale and Katy Wan, The EY Exhibition: Wilfredo Lam).
In 2003, I wrote: "Clarke is the finest of our generation; the supreme representative of our pains, our suffering and our strivings; the most inspirational of our prophets; and the spiritual architect of our becoming. His work transcends the politics of our everyday life and precariousness of our narrow existence. At its best, it penetrates into our unconscious and demands that we explore the meaning of our existence….
"When we see the varied visual forms that he presents; the intricate patterns of lines through which he interprets our beauty; the fantastical arrangement of figures in his composition, the depth of feeling that animates and is generated by his art, they challenge us to dig beneath the surface and discover ourselves anew" ("Meditation on a Genius" in Caroline Ravello, ed., LeRoy Clarke, Of Flesh and Salt and Wind and Current) .
Lam saw his painting as "an act of decolonization, not in a physical sense, but in a mental one." A similar revolutionary posture undergirds Clarke's work, which explains its fantastical and magical effects. Alejo Carpentier, the Cuban writer, called that Caribbean and Latin American phenomenon lo real maravilloso (or marvelous realism). That is the marvelous realism we encounter when we behold the sublime in Clarke's paintings.