By Gail Alexander
May 27, 2021 – guardian.co.tt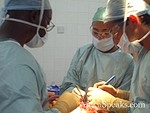 The board of the North Central Regional Health Authority (NCRHA) will meet today to discuss a call by 11 doctors for the reinstatement of and an apology to four senior doctors who were recently transferred from the Couva Hospital and Multi-Training Facility.
The board's meeting this morning will examine a call made by the 11 senior medical practitioners, who've insisted the board immediately do a probe into why the four senior specialist doctors were removed from the Couva Hospital recently.

"We look forward to your urgent action and to any dialogue which may be desirable and hope we can look forward to the correction of what appears to be a very serious default," the 11 practitioners stated in their letter to the board on Tuesday.
Full article : guardian.co.tt
~~~~~~~~~~~~
NCRHA: Couva Hospital doctors being rotated to prevent burnout
May 21, 2021
The North Central Regional Health Authority (NCHRA) has said it has implemented a rotation system for doctors at the Couva hospital to prevent burnout.
The Opposition United National Congress (UNC) had earlier claimed that the NCRHA was removing "generals" from the hospital at a time when they were needed the most, listing five doctors affected by the move.
Full article : guardian.co.tt
Doctors demand answers after colleagues moved from Couva Hospital
May 26, 2021
NCRHA director of health Dr Malachy Ojuro said Medical Chief of Staff Dr Don Martin two weeks ago suggested a system where doctors should be "rotated and reintegrated into the parallel system to prevent burnout."
But in a media report on Saturday, Martin denied the NCRHA's claim that he had asked for the rotations two weeks ago. He called out the RHA for using him as a scapegoat to rotate specialist doctors out of Couva.
He admitted to suggesting and requesting a rotation system in 2020, but said the request was made at a time where the covid19 infection rate was significantly low. He denied making it when the health system is desperately grappling to bring covid19 cases and deaths down.
Full article : newsday.co.tt