By Raffique Shah
May 10, 2021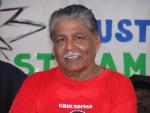 There are times when I feel ashamed of being Trinidadian. On such occasions, I feel almost like a traitor, having to admit that some of my countrymen are bringing shame and disgrace to our otherwise proud nation.
As the Covid-19 numbers exploded last week from single-digit in­creases to 300-plus daily confirmed cases, hospital beds were occupied at dizzying rates while deaths rose from modest to uncomfortable levels, I felt personally defeated.

What compounded my mix of emotions was the fact that it didn't have to come to this. We were almost home dry, as some would say, when the walls of Jericho came crashing around us, thanks to the must-hug, must-kiss clowns among us.
To those who took us there, who by their gross irresponsibility in their daily lives, their reckless disregard for the lives of others, I ask, how can you live with your conscience, if you have one, knowing the suffering, the pain, the grief you have inflicted on other human beings?
Let's be realistic here: you are no different to the gun-wielding bandits who rob hard-working citi­zens of their possessions. You are guilty of murder of one degree or other, by casually infecting others with the deadly virus, leaving them to die like dogs, agony writ deep on their faces, the cold hands of death denying them the commonest element of life: oxygen.
As the crisis turned south, as we sought to blame Venezuelans for our dance with death, stories emerged of grandchildren, intent on having a good time, often with money directly or indirectly bestowed on them by the very doting grandpas and grandmas whose lives they were about to terminate.
One young man, I was told, kept the rum shop his grandparents had funded open throughout the pandemic, which became the source of the virus that stung members of his household and others in the community who patronised the bar. Nani, nana, aunty, bhai, bhowgie—every man, woman and dog ending up sick, occupying expensive hospital beds.
I watched with anger seething in my system as journalists interviewed those who swarmed the beaches and other recreational facilities on Easter weekend, their senses seemingly in stupor, numbed by alcohol or sea breeze, or maybe both, as they ignored Covid regulations, morosely muttering, "We having a good time."
When Government imposed the second "lockdown" and banned the sale of foods at posh restaurants and wayside vendors to prevent patrons from congregating around them, I could not believe what I saw: thousands of hungry Trinis congregating at every corner, intent on eating every morsel of crap food they could stuff into their mouths.
In other words, those fools were celebrating the prohibition of congregating with massive congregations!
Stupid me, I asked myself: don't these people cook food in their homes? Clearly, they do not know how easily someone with basic culinary skills can whip up sada roti and tasty-if-not-nutritious "fried aloo" sandwiches that Indian schoolchildren of my gene­ration kept in our pants pockets as lunch daily, and I mean daily, because it was literally fast food before that label was applied to today's expensive downgrades that are all people seem to eat.
In our day, for variety, we often exchanged lunch with our Afro friends for their hops-and-cheese sandwiches. Or sometimes, we enjoyed a delicious fried-­plantain-in-sada treat that we similarly shared. Obviously, today's children know nothing of such grassroots foods.
But I digress: I have more fire to direct at the irresponsible clowns in our midst who, driven by their selfish desires, overcome by their weaknesses, put us all in danger from the deadly virus. These excu­ses for human beings cannot even endure confinement to their homes for the greater good of their country.
I feel compelled to ask: what would they do if ever they were called upon to take up arms to defend the nation against some foreign invader? I can only speculate that they would run and hide and cry long tears, cowards that they are.
And, please, you apologists for citizens by birth or boat who have neither the conviction nor the character to lay claim to patri­otism, don't add insult to injury by telling me about man being a social animal who must fraternise, must be close to other human beings for their survival. Hogwash.
Better you tell me they must be inebriated, they must lose their inhibitions through consumption or inhalation of mind-altering substances before they can be men.
My only consolation as I see my country face some very turbulent times that we need not have done, had there been real men in our ranks, is that some of these open-the-borders, free-up-the rum-shops, leh-we-hug-and-wine-away-Covid types in this phase of the pandemic, some of them, but all too few, are coming face-to-cowardly-face with a phenomenon called poetic justice…retribution for their actions that dumped us in this mess.
Sadly, poetic injustices abound: too many innocent people are suffering for the sins of the cowards.