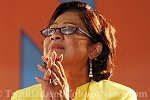 'CEO of the Cabinet' cuts four, changes 16 areas
A reconstituted Government team enters the Second Session of Parliament today with changes to almost half of its areas including a newly-created Ministry of Gender, Children and Youth Affairs, an Information Ministry and a drastically slashed portfolio for Works Minister Jack Warner.
We must do better
PRIME Minister Kamla Persad-Bissessar reshuffled her Cabinet, promoting Dr Delmon Baker as a Minister in the Ministry of Finance, moving Cumuto/Manzanilla MP Collin Partap to be a Minister in the Ministry of National Security, and appointing Minister of Public Utilities Emmanuel George to be Government Chief Whip in the Senate.

PM: Changes to improve delivery
Three new Government Ministries have been created after Saturday's Cabinet reshuffle.
Axed MPs to sit with audience
Outgoing Members of Parliament who are being replaced may attend, if they so wish, today's inauguration of the new parliamentary term—but only as guests.
Baptiste-Cornelis, Ramgoolam off to Geneva, NY
SACKED government ministers Therese Baptiste-Cornelis (Health) and Rudrawatee Nan Gosine Ramgoolam (Public Administration) have accepted Prime Minister Kamla Persad-Bissessar's offer to become this country's consul-generals in Geneva, Switzerland and New York in the United States respectively.
COP cries foul
The letter was drafted by the executive members of the party after an impromptu closed-door meeting at the Tunapuna constituency office of the political leader Winston Dookeran yesterday.
COP vex over Carolyn
THE Congress of the People (COP) yesterday bemoaned a reshuffle of Cabinet that would demote a key COP member —Energy Minister, Carolyn Seepersad-Bachan — and called for an urgent and immediate meeting with Prime Minister Kamla Persad-Bissessar.
Kamla picks Kevin for Energy
Parliamentary Secretary in the Ministry of Energy Kevin Ramnarine, who will be sworn in today as this country's new Minister of Energy, was told of his impending appointment at Saturday's meeting with Prime Minister Kamla Persad-Bissessar.
Devant vs Jack
The Ministry of Works and Transport (MOWT) has been split into two separate ministries as part of Prime Minister Kamla Persad-Bissessar's Cabinet realignment.
Imbert on splitting Works and Transport: Recipe for chaos
Splitting the Works and Transport Ministry between a Works Minister and a Transport Minister is a recipe for chaos, says former PNM Works Minister Colm Imbert.
Moonilal happy with realignment
Dr Roodal Moonilal, deputy political leader of the United National Congress (unc), Leader of Government Business in the House and Minister of Housing and the Environment, said he was satisfied with the way Prime Minister Kamla Persad-Bissessar handled her first realignment of Cabinet ministers on Saturday.
Moonilal praises Kamla's handling of Cabinet reshuffle
Fuad to take up post tomorrow
New Minister of Health Dr Fuad Khan's appointment will be delayed today due to the absence from the country of House Speaker Wade Mark.
Khan's vision for 'mini-hospitals'
Cabinet changes
Prime Minister Kamla Persad-Bissessar last night confirmed major changes to her Cabinet, from a slate of new Government ministers to a re-alignment of certain ministries in what, we hope, is an attempt to ensure smoother implementation of policies and to make her Government work better. We wish her luck.
Timely reshuffle
It seemed as if none of the Ministers rumoured to be affected by last weekend's Cabinet reshuffle had any idea of what was going on with their careers on Saturday.
Parliament opens today
THE CEREMONIAL opening of the Second Session of the Tenth Parliament takes place at the Red House today from 1.30 pm and is expected to be significant for several reasons.