By Dr Selwyn R. Cudjoe
December 01, 2020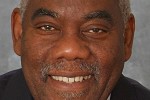 Trinidad and Tobago, a weird place sometimes, is given to extremes. Imagine an embalmed man in a sitting position, placed in the tray of a hearse and given an open-air last ride past the Prime Minister's office on his way to his final resting place: "Dressed in a suit and seated in a chair, Che Lewis's body was placed in the back of a vehicle by the Dennie's Funeral Home and driven around the capital city" (Express, November 26).

Some people saw this event as additional proof "that Trinidad was not a real place" while others comforted themselves with the fact that such things also happen in other countries. In reading this story, I couldn't decide whether it was a macabre display of mindlessness, honoring of a life well lived, or just a chance for the funeral home to make some money.
Chochese Tyler Dennie, director of the funeral home, saw his production as a creative act. He was only showcasing his talent: "Instead of criticizing, people should say hey, this is the amount of talent in Trinidad and Tobago and maximize on it. This is a lucrative business but we don't have an accredited program for funeral directors and embalming here. I think we should look at the bigger aspect of it" (Loop News).
Dennie said such a display, "would help the families to accept death and help the family to grieve better….None of the funeral home owners or employees was over the age of thirty, which he said allowed them to connect with the younger population looking for more extravagant ways to send off their loved ones" (Trinidad Guardian, November 25).
Since I am over thirty years I find it difficult to connect with these sentiments. Yet, I remember that in Tacarigua, in my younger days, the Madrassie Indians cried when a child was born and rejoiced when a person died. They believed that when a child was born s/he came into a world of pain and suffering. When he died, he entered into a world where pain and suffering ceased.
Several years ago, my first cousin's husband died. Let us call him John. After the church service, the attendees (well, they couldn't be called mourners) went to a large hall that my cousin had rented and had a full-fledged party. John was a party man and, according to her, that was the send-off from this world that he wanted. He requested that she play Frank Sinatra's "My Way" at his funeral.
Being over thirty and influenced somewhat by Christian mores, I could not see or understand why there was such rejoicing even though they claimed they were celebrating his life. I wondered if my good friends, Oskie or Giles, would be partying, wine-ing on a table, to "Black Man Feeling to Party," when I die.
Most of us have our own conception of how we would like to celebrate our departure from this world. My Boston neighbor, a Quaker (Religious Society of Friends), died about two months ago. I expected to hear a great hullabaloo at her house as neighbors came over to pay their respects. Alas, few neighbors came over, there was little public display of mourning, and she left this earth without a murmur. At least, that is how I saw it. I knew this woman for over thirty years.
Quakers believe that priests are unnecessary because everyone has a personal experience with "the inner light of God." They have seven principal values, called testimonies: "equality," "justice," "peace," "truth," "integrity," "simplicity," and "stewardship of the Earth." Their worship is unstructured and they focus on finding God in "stillness." Their weekly service is conducted in silence. One may speak if one feels impelled to do so.
Quakers do not have specific beliefs about what happens after death. They believe that when one dies his spirit goes back into "the light." They hope their spirit lives on in their family and in the friends they leave behind. They have no specific burial plans. They may be cremated. Some Quakers do not even have funerals.
My mother, a devout Christian, always said: "When yo' dead, 'yo done." Her Christianity should have led her to believe in the resurrection of the dead, but she was dogmatic: the journey is in the living. Since no one ever came back to tell what happens on the other side of the grave, she was content to live in the present. She usually said, "Give ma' what you have to give ma' now. I don't care what you do when I am gone."
This same woman though prepared for her funeral. Several years before she died, she called my sister, took her to her wardrobe and told her exactly what clothes she wanted to be buried in. When my sister demurred, my mother insisted: "Ah go dead, so prepare for it." That was a macabre form of realism.
Quakers believe that funerals are for the living, designed to support and comfort the bereaved family and their friends. I am not too sure that my neighbor had a funeral-she simply exited this life-and I am positive that John's friends had a wonderful time at his homegoing. I found such partying disquieting.
Although the live streaming of Che Lewis's service may have been comforting for his family and his friends, I wonder if such a macabre display signified the culmination of a life well lived. And while I believe that change is inevitable, I am still trying to understand what is so creative about the macabre display that assaulted our sensibilities this past week. Maybe, in time, I may grow to understand some of those things that passeth my understanding.