By Dr Selwyn Cudjoe
September 07, 2020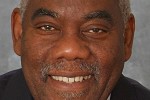 Chadwick Boseman, star of Black Panther, died last week Friday. The next day, former student Olivia Funderburg wrote me the following note: "Boseman's death feels similarly shocking to Kobe Bryant's death, in its suddenness. I was recalling how excited I was when you took us to see Black Panther. It meant so much to everyone that they got to see the movie with their friends, and with you. The way that Boseman embodied the Black Panther character and historical figures like Jackie Robinson, makes his death feel that we have lost a real-life superhero."

The various characters that Boseman played meant a lot to black people, particularly our young black men and women. Some of them, including my younger colleagues, saw Black Panther many times. The latter depicts a world that was controlled by black people and gave them a glimpse of what it would mean if they controlled the world in which they lived. To the young people, the movie contributed a sense of belonging in a world that had dismissed their presence.
Olivia captured this dimension of the film's reach when she wrote: "Boseman's performance in Black Panther's titular role should be remembered and celebrated not because of his acting skills, though his artistry is unparalleled, but because of his influence. Boseman brought something revolutionary to movie screens: a black superhero in a major motion picture.
"His passing feels like the loss of a real-life superhero. Having watched Boseman bring to life the Marvel hero King T'Challa and other historical figures, his superpower lies in how he empowered countless black kids to understand that they can be superheroes—that their blackness is a gift that they can use to save the world."
I empathised with Olivia's sense of loss, particularly in the super-heroic dimension of King T'Challa. I contrasted King T'Challa's life with that of Toussaint Louverture, particularly how Sudhir Hazareesingh, the Mauritius-born and Oxford scholar, described Toussaint in his most recent work, Black Spartacus: The Epic Life of Toussaint Louverture. In this well-researched and enormously engaging biography, Hazareesingh writes: "Toussaint Louverture was the first black superhero of the modern age. The main elements of his legend were already in place by the time he left the political stage at the beginning of the 19th century: he was seen as a saviour, a military hero and martial emblem of masculinity, a law-giver, a symbol of emancipated blackness and, as William Wordsworth put it in his 1802 poem…of man's unconquerable mind."
Toussaint was one of the most extraordinary men of his time, having defeated the Spanish, the British and the French. When Napoleon Bonaparte sent his forces to reassert French control of Saint-Domingue, Toussaint defeated him so overwhelmingly that Napoleon sold Louisiana to the United States for next to nothing. Toussaint, as Hazareesingh makes clear, possessed an extraordinary strategic brilliance and superhuman stamina for hard work.
Toussaint was African to the core. His personality was shaped by his African heritage. Kreyol was his native language. "In its combination of French, African and indigenous motifs and its capacity for ambiguity, irony and wit, it was a perfect reflection of the cultural forces which shaped Toussaint's personality and intellect."
I first encountered Toussaint when I read CLR James' The Black Jacobins (1938), but I never saw him as a black superhero. We did not use those terms then to describe figures who we saw as being larger than life. Yet, we wondered from whence Toussaint had gained his enormous abilities.
Hazareesingh seems to get it correct when he says that "in keeping with the voodoo practice of deification of powerful ancestors… Toussaint also eventually took his place with Dessalines, among Haiti's loas. According to Haitian tradition, his principal decision (in life and in war) was informed by Ogoun-Fer, the warrior god."
Like Boseman, Toussaint was not afraid to die badly. In spite of their much travail, they both lived their lives with dignity as they struggled through their pain and sorrow. In 1791, at the age of 51 (James says he was 45), Toussaint joined the Haitian Revolution, serving his country for 11 years thereafter. He suffered many injuries during the war of independence. On many occasions he was almost assassinated. In the end he was deceived by the French, deported to France and died in 1803.
Boseman found fame relatively late in life. At the age of 39, in 2016, he learned he had Stage 3 colon cancer. A spokesman said: "A true fighter, Chadwick persevered through it all, and brought you many films you have come to love so much. From Marshall to Da 5 Bloods, August Wilson's Ma Rainey's Black Bottom and several more, all were filmed during and between countless surgeries and chemotherapy."
Oprah Winfrey says the way Boseman "handled his life and managing cancer with such humility and grace and dignity lets us all know that he truly was a superhero. He will be remembered, cherished and loved… for what he was able to give as a human being".
David Rudder pleaded, "Haiti I'm sorry/ We misunderstood you," suggesting that we didn't understand what Toussaint and Haiti did for black people. At the end of Black Panther, T'Challa tells the United Nations: "We will no longer watch from the shadows. We will work to be an example of how we, as brothers and sisters on this earth, should treat each other. We must find a way to look after one another as if we were one, single tribe."
Both Toussaint and Boseman remind us about the power of blackness internationally if it is deployed properly. It is a lesson we can all learn from.