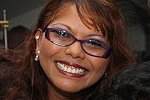 Sasha under fire
Threatening e-mails traced to PM's adviser
Attorney General Anand Ramlogan yesterday was the only Cabinet Minister to criticise the e-mails sent from the home computer of Sasha Mohammed, special adviser to the Prime Minister, attacking Express editor-in-chief Omatie Lyder and Express reporter Anna Ramdass.

While his Cabinet colleagues steered clear of the issue, Ramlogan called it "unfortunate" and advised all threatened media personnel to do what was "in their best interest". Continue…
CoP, Ministers mum on Mohammed
Commissioner of Police Dwayne Gibbs responding to media reports that special adviser to Prime Minister (Kamla Persad-Bissessar) Sasha Mohammed had been reprimanded by the police following threatening e-mails she allegedly sent to two reporters of a media house, said he had no information on the matter save what he "read in the paper".
PM blanks media on adviser issue
MATT calls for response from Govt
Other victim of cyber attacks
FORMER Express editor and columnist Raoul Pantin yesterday said that he, too, was a victim of a cyber attack launched against him from the computer of Sasha Mohammed under the e-mail name Janice Thomas.
Opposition Leader: Sasha must be removed
E-mails compromise PM's office—MATT
PM must act now on Sasha
Prime Minister Kamla Persad-Bissessar must act swiftly in response to the revelation that a member of her staff issued e-mail threats to media workers.
Penalties for unfair comment
The police intervention made in the matter of former journalist Sasha Mohammed, whose computer was traced as the source of threatening e-mails sent to Trinidad Express editor-in-chief Omatie Lyder and reporter Anna Ramdass, opens a new chapter in communications protocols in Trinidad and Tobago and sends a resonant message to our Internet community.