Ria Taitt Political Editor
Sunday, June 22nd 2008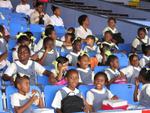 Teachers feel "disempowered" and "abandoned" on the issue of corporal punishment and classroom control as students mock them saying "Government say yuh cyar do me nothing".
Eighty three per cent of teachers agree that corporal punishment should be allowed in secondary schools. And, according to 62 per cent of teachers, sexual deviance-pornography, sexual intercourse, sexual fondling and kissing- on the school premises are "big problems".

But the issue on which there is the strongest consensus is the question of parental interest and support. A whopping 90 per cent of teachers say that parents and guardians show little or no interest in their children's education and provide little or no support.
Full Article…
Also Read
Banning Corporal Punishment of Children
Corporal punishment can be defined as a painful, intentionally inflicted (typically, by striking a child) physical penalty administered by a person in authority for disciplinary purposes. Corporal punishment can occur anywhere, and whippings, beatings, paddlings, and flogging are specific forms of corporal punishment (Cohen, 1984).
Corporal Punishment of Children (Spanking)
The Effects of Corporal Punishment on Children
Human rights, law and corporal punishment
Is Corporal Punishment An Effective Means Of Discipline?