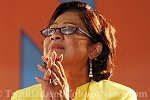 PM vows to make T&T a better place
Prime Minister Kamla Persad-Bissessar wrapped up a national day of prayer at Rienzi Complex, Couva, last night by extending a branch of hope to the citizenry saying, "better days are coming." Speaking with reporters last evening after handing out gifts to scores of supporters, Persad-Bissessar commented on recent polls which showed that her Government had a decline in its performance ratings for the past year. According to recent polls, including last Sunday's ANSA McAL Psychological Research Centre's poll in the Sunday Guardian, Persad-Bissessar's rating has fallen over the last year. The PM said that despite the setbacks, she was committed to making T&T a better place.

…Nacta opinion survey shows: PP Govt slips in rating
How economist views MFO poll results: New Govt, old PNM vision
Ministers take stock after polls
Poll just a snapshot, says Carolyn
Moonilal: No room for major slip-ups
Warner: I remain humble
Government Minister Jack Warner said yesterday that he is a people person and his devotion to serve all and create smiles is his secret to topping polls which show that he is the best-performing Government Minister.
Dookeran at COP workshop: Demands for good governance in T&T
'No easy task ahead for Govt'
"I have heard them say they will do betterthere are many more pitfalls and problems they are still going to encounter largely because they are inexperienced. Running a country is not something easy to learn on the job," said Imbert in a telephone interview with the Express.