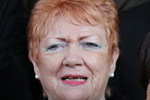 The appointment of Minister and Senator Mrs. Mary King was revoked, today, 10th May, 2010 by the President, His Excellency George Maxwell Richards on advice of the Prime Minister. Mrs. King held the portfolio of Senator and Minister of Planning, Economic and Social Restructuring and Gender Affairs from May 28th, 2010.

KING FALLS
PRIME MINISTER Kamla Persad-Bissessar yesterday fired Mary King as Planning Minister and a government senator after being advised by Attorney General Anand Ramlogan that a serious conflict of interest had arisen with respect to the award of a $100,000 contract for website development at the Planning Ministry to Ixanos Limited, a company with ties to King and her husband.
FIRED!
MARY KING'S ministerial and senatorial appointments have been revoked by President George Maxwell Richards.
'Improper' King fired
Two weeks short of The PP's Government's first year in office, Prime Minister Kamla Persad-Bissessar yesterday fired Planning Economic and Social Restructuring and Gender Affairs Minister Mary Kathleen King for "acting improperly" in the issue of a contract award.
Bharath: The PM won't rejoice
Agriculture Minister Vasant Bharath said the firing of Planning Minister Mary King was "extremely regrettable."
Transparency welcomes PM's 'prompt action'
Jack sorry for Mary
WORKS and Transport Minister Jack Warner, who on Monday defended Mary King as "incorruptible", yesterday said while he feels sorry for her, he fully supports Prime Minister Kamla Persad-Bissessar's decision to revoke King's Senatorial and Cabinet appointments.
Khan: PM had no choice
Dr Mary King's sacking was expected and it was one in which Prime Minister Kamla Persad-Bissessar had no choice but to carry it out.
Mary calls for an independent probe
FIRED government senator and minister Mary King wants an independent investigation to be conducted on her behalf.
Probe Mary King fiasco
The Congress of the People (COP) to which former minister Mary King belongs has called for the Integrity Commission to intervene and launch a full investigation into King's alleged wrongdoing.
Ramlogan: Website contract under review since Nov
Attorney General Anand Ramlogan had been looking at documentation in relation to the award of the website contract to Ixanos, a company owned by former Planning Minister Mary King's family, since December last year when it was first passed it to him for advice.
It's disturbing says Dick-Forde
AG: Case made out against King
Clear my name
King writes Integrity Commission
Statement from King family 'later today'
She should have had her say—Dookeran
Congress of the People (COP) leader and Minister of Finance Winston Dookeran said he would have preferred if Planning Minister Mary King "had her say" before she was fired by Prime Minister Kamla Persad-Bissessar.
Dookeran: A sad day
Finance Minister and Congress of the People (COP) Political Leader Winston Dookeran said yesterday it was a rather sad day when a minister is fired.
'Integrity Commission probe is necessary'
The firing of Mary King from the People's Partnership Government is not something the Congress of the People (COP) is proud of, says party chairman Joseph Toney.
Panday: PM right but jury still out on some aspects
PNM: We told you so
The walls of the PP Government's Jericho are tumbling down, says PNM Senator Fitzgerald Hinds.
Chamber: Transparency must prevail
Misplaced trust: What a bitter pill
Hardly a tear would have been shed over the falling of the axe yesterday on Planning Minister Mary King, who inexplicably committed such rudimentary errors as to render her manifestly unfit for office.
When ethics matter
Sir George Adrian Hayhurst Cadbury, former chairman of Cadbury and pioneer in the field of corporate governance once said "Shelving hard decisions is the least ethical course." Today we commend the Prime Minister for her moral fortitude
Kamla picks Bhoe Tewarie to replace Mary
Pro-Vice Chancellor, Planning and Development, of the University of the West Indies Dr Bhoendratt Tewarie is to be this country's new Minister of Planning, Economic, Social Restructuring and Gender Affairs.