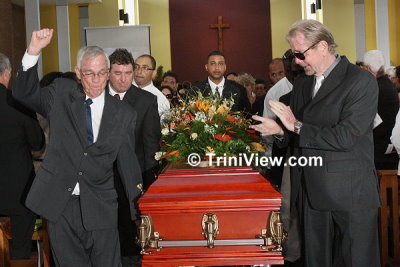 Allyson Hennessy's Send-Off in pictures
Celebrating the Life of Allyson Hennessy – January 04, 1948 – May 07, 2011 at St. Finbar's R.C. Church, Morne Coco Road, Diego Martin on Friday May 13, 2011.

***
Allyson Hennessy Has Died
May 08, 2011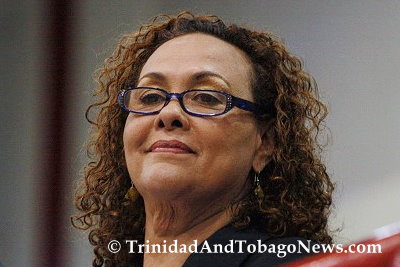 Allyson Hennessy
Veteran television presenter Allyson Hennessy died last night, Saturday 7th May, 2011, after falling ill last April. Although her family never revealed the exact nature of her illness they stated that she succumbed to Sepsis and Septic shock.
Mrs. Hennessy spent her last days at the St. Clair Medical Centre and died despite word last week that she was showing signs of recovery.
Allyson started her career as a media presenter in the 1970s replacing presenter Melina Scott at the Trinidad and Tobago Television station. She also hosted her own popular cooking show and later moved on to the popular Community Dateline programme.
During the 1980's she mastered her cooking craft at the Le Cordon Bleu Restaurant School of cookery in London which was where she met radio broadcaster Emmett Hennessy. While in London, she also roomed with iconic Trinidad and Tobago fashion designer, Meiling.
Hennessy was also a renowned restaurateur with her family restaurant Veni Mange so named by her close friend and fellow media personality Holly Betaudaeir in 1980.
Hennessy received many accolades during her longstanding career and was recently honoured by the Trinidad and Tobago Publishers and Broadcasters Association for her contribution to television in Trinidad and Tobago in 2009.
She leaves behind her husband Emmett, her mother Theresa La Roche and her sisters Judy O'Conner, Rosemarie Hezekiah and Sheila Besson. She was 63.
***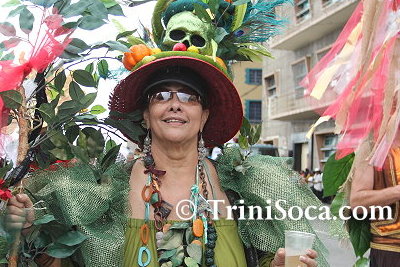 Allyson Hennessy playing mas in her Carnival 2011 band called Friends of Allyson
Allyson Hennessy passes on
Veteran talk show host, Allyson Hennessy, has died.
Ms Hennessy, who was ailing since April, passed away on Saturday 7th May at the St Clair Medical Centre. She was in the Intensive Care Unit at the Centre for the past several weeks.
She was synonymous with State owned Trinidad and Tobago Television (TTT) during its early years, having interviewed many people from all walks of live including the late Prime Minister, Dr Eric Williams, pop superstar, Michael Jackson, and many others.
Full Article…
***
May 09, 2011
Allyson Hennessy dies at 63
Prime Minister Kamla Persad-Bissessar yesterday joined the nation in mourning the death of media personality, Allyson Hennessy who passed away on Saturday night at the St Clair Medical Centre.

Allyson Hennessy passes on at 63

Allyson is dead at 63
VETERAN television personality Allyson Hennessy has died at the age of 63. Hennessy, who for many years was known as "the lady with the wavy hair and bubbly personality on Trinidad and Tobago Television (TTT)", succumbed to sepsis and septic shock on Saturday evening after an extended stay at St Clair Medical Centre. Sepsis is a severe illness in which the bloodstream is overwhelmed by bacteria, usually from an infection.

Kamla: She was an icon
Late television presenter Allyson Hezekiah-Hennessy was an icon and an institution in T&T, according to Prime Minister Kamla Persad- Bissessar.

Matt pays glowing tribute to Allyson
The Media Association of T&T (Matt) says Allyson Hennessy's multiple talents, intelligence, commitment and vision for T&T's people carved for her a unique and influential place at the very centre of the country's cultural life, from the independence era to her death.

'Great loss for media industry'

Remembering Allyson
On Saturday night, away from the news cycles of the media she had been part of for most of her adult life, Allyson Hennessy passed away.