By Burton Sankeralli
April 26, 2011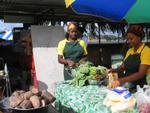 Pineapple… sweet potato… water melon… pak choi… lettuce… topi tambo… bodi… pumpkin… corn…
On April 25th, 2011, this Day of Destruction, the so-called Peoples' Partnership government destroyed 175 acres of food crops in two agricultural sites. There are certain actions that come to define a regime, certain events when such a regime loses its fundamental credibility. Such an event may involve bloodshed or it may, on the surface, be largely symbolic or it can involve the killing of crops.

In an act of naked violence that so crystallizes the politics of deception, treachery and brute force that has come to define our landscape, this government has claimed its place in our historical hall of infamy.
Food is life, and food security is our peoples' life. This is our very substance. And it is precisely this that has been so crushed by bulldozers in the hands of thugs.
As someone who saw this destruction with my own eyes I must bear witness. Once again the substance of our people has been savaged. Once again, the livelihoods of people have been destroyed. Once again, the fury of the state has been unleashed by a regime elected on a platform of food security, consultation and a return of basic human decency.
So what do we tell the good citizens who voted for a new day? What do we tell the farmers whose years of blood, sweat and tears are crushed? What does one say to the little child witnessing monstrous machines gobbling up his father's field? And what do we tell the youths who believe that the only way out is the barrel of a gun? If de priest could play who is we?
And this atrocity was perpetrated on the morning of Easter Monday reminiscent of the atrocity of the previous in Union Village done on Easter Sunday (we know what happened to them). There is an irony in these politicians choosing the season of resurrection to carry out their crucifixions.
So the last regime whose base was the urban areas saw its job as keeping these urban masses in shacks, hunger, poverty and indignity. This regime whose heartland is in the rural areas now appears to see its duty is to destroy the agricultural base of its own supporters. Such is the nature of politics in this place.
So the words of the old Vulcan proverb are indeed true – Only Nixon can go to China!
At least the one positive outcome of this is that the complete and utter failure of the conventional politics is laid bare for all to see and that our people are now compelled to directly intervene on their own behalf.
Now it may take quite a while for this realization to properly sink in. Decades of nationalist backwardness will not evaporate overnight but slowly, but slowly the wheels are now turning.
April 25, 2011… remember the date. Let us pray that the government's Day of Destruction becomes the peoples' Day of Judgment.
It is time to act.
HDC bulldozers roll over crops
Farmers have filed an injunction restraining Housing Development Corporation (HDC) personnel and its agents from bulldozing 100 acres of farm land at Crescent Gardens, Mausica Road, D'Abadie.
…HDC bulldozes agricultural lands for housing
FARMERS at Pineapple Crescent in Mausica are demanding that Government explain why agricultural lands are being used for housing.
…40 acres of crops bulldozed to make way for houses
…Planning for both housing and food
This need has been driven by the post-independent period by the sociological change in the structure of families in this country whereby the extended family, with several generations living under…