By Cecily Asson
February 28, 2011 – newsday.co.tt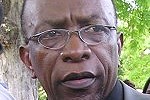 Saying that he will never be part of the crowd that gathers each year in Skinner Park, San Fernando for the National Calypso Monarch semi-final, Works and Transport Minister Jack Warner yesterday hailed the bravery of Prime Minister Kamla Persad-Bissessar who on Saturday received loud boos from patrons when asked by master of ceremonies to acknowledge her presence.

Commenting on the situation yesterday, Warner said it was "unfortunate."
"I know long time that, of course, that show and Skinner Park is not supportive of the Government and I have not gone there for years," Warner told reporters following a tour in San Francique, Penal.
"I think the Prime Minister is much braver than I am," he said and described her as having "real guts".
"I am glad she went to the show, she is brave," he said.
On Saturday on her arrival from Grenada, Persad-Bissessar was taken straight to Skinner Park where the show was in progress. She was escorted to the Mayor's Box.
MC Sheldon John announced her presence and called on the thousands to acknowledge the PM. The crowd booed instead. The response was the same when he asked again. Persad-Bissessar however managed a smile and left the Mayor's Box and was escorted by her security detail through the thick crowd to the backstage area where she met with some of the artistes. On her way out of the park she was greeted by some patrons who made way for her to pass through.
Warner said he never goes where he is not wanted.
"I know for long time now that in Skinner Park, people of my political affiliation, people like me are not wanted there and I don't go. She went there as Prime Minister and I really commend her."
Persad-Bissessar was not the only one who got a less-than-welcome reception from the Skinner Park crowd.
Winston "De Original De Fosto" Scarborough, the last semi-finalist at position 40, who sang a commentary on the controversial policies of the Port-of-Spain Mayor, was booed by the crowd who always waved toilet paper at him.
http://www.newsday.co.tt/news/0,136512.html
***
'PM was brave to attend Calypso Fiesta'
De Fosto left out Calypso Monarch final