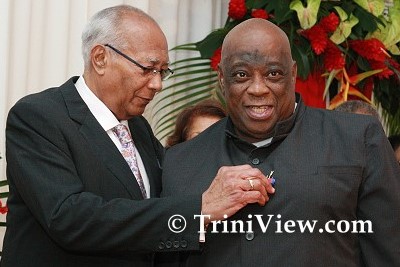 Keith Edmund Bernard Smith receives the Hummingbird Medal (Silver)
from the President of T&T Professor Emeritus George Maxwell Richards
for his role in Journalism at the 2009 Independence Awards
Veteran journalist Keith Smith has passed away. He lost his battle with cancer at 3.05 this morning.
Smith's career as a journalist spanned more than four decades. The Keith Smith Column, in the Express, widened his audience, making him a household name.

Smith's close friend, Express Features Editor Deborah John said "one of his proudest moments was when he was invited to read his column 'Under the Trees' at Hotel Normandie."
Full Article : trinidadexpress.com
***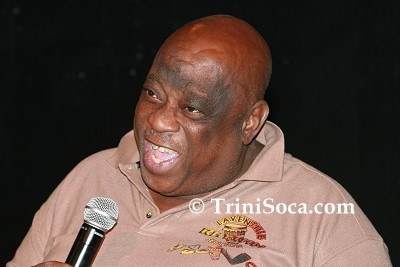 Foreign Affairs Minister Dr. Surujrattan Rambachan extends his deepest condolences to the family of Keith Smith who died Tuesday morning after a battle with cancer.
In eulogizing the Veteran Print Journalist, the Minister said Smith represented an era in Journalism that respected and upheld the highest standards in the Profession, ensuring accuracy and balance in his reporting and even when he shared his personal perspectives, they were carefully researched and skillfully penned.
Minister Rambachan said he admired Keith Smith for his conviction to improve, through his writings, the life of LAVENTILLIANS, the community which he never left and to which he gave so much inspiration.
"To his family, I extend my personal condolences and those of my Ministry and to the MEDIA Fraternity, I ask you to honour his name by practicing, as he did, the highest standards of Journalism".
Ministry of Foreign Affairs.
***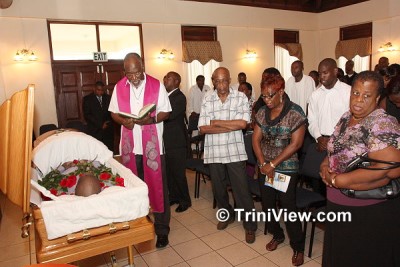 Brian Mc Farlane's Keith Smith Memorial in pictures
February 11, 2011
Keith Smith's Wake in Laventille in pictures
February 11, 2011
Keith Smith's Send-Off in pictures
February 12, 2011