By Andre Bagoo
Thursday, April 10 2008
T&T Newsday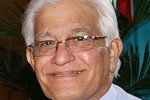 OPPOSITION LEADER Basdeo Panday's legal problems just got a little worse. More than one year after having his political life revitalised by the quashing of a criminal conviction against him, the Privy Council yesterday paved the way for him to face a retrial on three charges of failing to declare a joint London bank account to the Integrity Commission.
The three charges are the same charges he was freed of last year, on the basis of "apparent bias".

The development adds yet another dose of mounting legal woes to the Opposition Leader who is already before the courts in other matters and who has had a history of court battles since being made subject to an Integrity Commission probe over the joint London bank account in 2002.
But while the Privy Council ruling now clears the way for the integrity retrial to go ahead, the end is by no means near for Panday, whose lawyers are now feverishly preparing to challenge the proceedings at the local appellate level.
The Privy Council decision comes as Panday leaves today for London where his wife Oma is to undergo tests for open heart surgery.
UNC Alliance colleagues yesterday closed ranks behind their embattled leader, who is currently on suspension from the Parliament for the rest of the term, saying the judgment was not the end.
"Basdeo Panday is and remains innocent of any criminal charges and this position has not changed following the Privy Council decision today," the UNC Alliance said defiantly in a press release.
After the local Appeal Court quashed the criminal conviction ordered by Chief Magistrate Sherman McNicolls on April 24, 2006 and ordered a retrial, Panday filed an appeal to the Privy Council. Pending the Privy Council decision, the retrial continued to be called for mention in the Port-of-Spain Magistrates Court where it has been presided over by Senior Magistrate Ejenny Espinet.
Espinet is also presiding over a separate bribery inquiry against Panday and his wife Oma stemming from the Piarco airport terminal project and his attorneys have repeatedly asked her to recuse herself from this proceeding and the integrity hearing. The State has asked Espinet to step down from the integrity hearing only.
In a 14-page judgment, a panel of the London-based Privy Council rejected all of the arguments advanced by Panday's attorneys in an attempt to block the continuation of proceedings before Espinet in the Port-of-Spain First Magistrate's Court which are carded to come up again for mention on April 15.
But Newsday has learnt that the retrial will not go ahead on that date as lawyers acting on behalf of Panday have filed a challenge in the Port-of-Spain High Court over Espinet's refusal to recuse herself from this matter.
The application for leave to appeal Espinet's decision will come up for hearing before Justice Judith Jones on May 13. A stay of the retrial will be sought on that occasion.
Panday had been convicted on April 24, 2006 for failing to declare an estimated $2 million to the Integrity Commission. He was sentenced to two years' imprisonment, fined $60,000 and ordered to pay $2 million to the State.
But this conviction was quashed on March 20 on the basis of apparent bias on the part of the Chief Magistrate. A retrial was ordered, but this was subsequently challenged in the Privy Council.
In a judgment delivered by Lord Brown, the panel, also comprising Lords Hoffman, Scott, Walker and Neuberger, rejected the argument that the bringing of charges against Panday under the Integrity in Public Life Act 1987 was time-barred.
"The argument is absurdly far-fetched…The point is a bad one," they ruled in a judgment.
The panel further rejected an argument that having Panday retried is oppressive.
"The appellant has, quite rightly, had his conviction quashed… But the quashing of his conviction restores the appellant to the position he was in before the unfair trial. Why should his success gain him immunity from…a fair trial upon charges properly brought?"
"It would be for the trial court…to decide whether a charge had been instituted in bad faith or oppressively," the panel ruled. They emphasised that any allegations of a politically motivated prosecution should be aired before a magistrate.
And further, their Lordships rejected the argument that because Panday, according to a May 4, 2007, medical report "is under significant stress by virtue of a threat of retrial", he should not face fresh proceedings. They also rejected the point that his $1 million legal bill somehow barred further proceedings, calling this abuse of process submission a "last ditch" one.
"Frankly, it should never have been raised as a ground of appeal," the panel said.
The UNC Alliance yesterday implored their followers to not be dismayed by the panel's findings, characterising them as matters of law as opposed to morality.
http://www.newsday.co.tt/news/0,76631.html
Law Lords throw out petition: Fresh trial for Panday
FORMER Prime Minister Basdeo Panday has been hit a major blow as he has lost his bid to avoid a second prosecution for allegedly failing to declare a foreign bank account…
Waste of state funds–UNC
The ruling of the Privy Council dealt only with whether the local Court of Appeal was correct in ordering a retrial of Basdeo Panday's integrity case and no finding was made on the facts of that case…
Leave Bas alone
UNC-A: A citizen in his twilight years
…Oma 'okay' but heads to London
Opposition Leader Basdeo Panday and his wife, Oma, are expected to leave for London today, so she can carry out further tests on a heart condition she has developed.
Back to House minus Panday
Basdeo Panday, leader of the United National Congress-Alliance, said yesterday that his members will attend Parliament and participate in the debate without him on Friday.