I told you so, says Fr Rochard
By Nalinee Seelal
Tuesday, April 8 2008
newsday.co.tt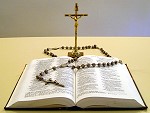 Roman Catholic priest Fr Garfield Rochard who took a controversial decision late last year to stop a man who had witnessed a murder from entering the compound of the Church of the Assumption, Maraval, yesterday said the man's murder over the weekend was expected.
The man Harold Joseph, 50, was gunned down outside Marmon's Bar in Petit Valley on Saturday.

Joseph was on his way to the bar when he was shot several times and collapsed in the middle of the roadway at Alfred Street, Petit Valley, where he died.
Yesterday, Rochard confirmed Joseph was the State witness who he had prevented from entering the church compound late last year for security reasons.
The decision at the time, he said, was for the safety of his parishioners as it was expected that Joseph's presence would have attracted the killers of the murders he had witnessed.
Rochard was quoted as saying he wanted "no shootout in his church".
He told Newsday yesterday the parish had been assisting Joseph with food vouchers and money for the past 20 years.
Joseph however had an alcohol problem and despite being sent to rehabilitation by the St Vincent De Paul Society group of the Assumption church he did not seem to want help.
"The financial charity that he so desperately sought did not help him improve himself after all these years, but allowed him to obtain what he perceived as urgent for his survival," said Rochard.
Rochard said a firm decision had to be taken in the interest of protecting other parishioners from being injured or killed, after Joseph became a state witness, and he received information that persons wanted to kill Joseph.
Police officers confirmed yesterday that Joseph was an alcoholic and left his safe house under the pretext that he wanted to visit friends, but he instead went to bars where he drank heavily.
Rochard was severely criticised by many who argued that the church was supposed to be a sanctuary for those in need. Others supported Rochard's concern for the safety of his parishioners.
Newsday learned Joseph's brother has indicated he wants the funeral service to be held at the Church of the Assumption because he cannot afford to bury him.
Rochard said if the family approaches the church for assistance the parish will be willing to assist.
On December 9, last year, Fr Rochard caused controversy when at his Sunday Mass at the Assumption Church, he said he had pleaded with one of his parishioners who witnessed two murders to stay away from the compound to prevent the killers from entering to engage in a shootout.
He also asked parishioners that day not to give weapons or assistance to the witness, and further instructed them, "Do not encourage the witness on the compound even though he is a member of the parish and often receives help from the St Vincent De Paul Society in the churchyard."
He also added during the service that day that he consulted with the St Vincent De Paul Society and the Parish Committee for Social Justice, and a decision was taken not to allow the witness to enter the church compound because it was felt that he was putting too many people at risk.
"I don't want people to come here to spray no bullets," said Rochard. He said the Assumption parish community waited in anxiety over what they foresaw, which eventually came to pass.
"It took two murders in the area to bring us to that important decision to discontinue the practice of facilitating Joseph with financial charity, since it was clear that his life and the community members own as well, were in danger.
"Our decision stopped this and arranged its availability through the St Vincent De Paul, and recommended him to keep out of sight, since his assailants knew where to find him.
"His assailants knew that since he could not be found on the church compound, the atmosphere of social pleasure (bars) remained the only other venue to find him," said Rochard.
He said the Assumption community lifted Joseph's soul up in prayers yesterday and commended him to the mercy and forgiveness of God.
A spokesperson from the St Vincent De Paul Society said Joseph was well known to them and received counselling, food vouchers and other assistance, but his problem was his love for alcohol.
Relatives of Joseph said he has two adult children living abroad but they did not maintain close contact with him because they knew that he was marked for death. Relatives also questioned the witness protection programme and said that if it was being properly run Joseph might still be alive. Joseph was being kept in a safe house in Carenage.
He was the witness in the murder of his two friends Anthony Boodoo and Wilfred Mohammed who were shot by gunmen at Maraval on December 1 last year. Boodoo died on the spot and Mohammed died one day later at hospital.
Joseph survived the shooting attack and agreed to be the police witness. One man is before the court charged with the two murders. Yesterday, police were interviewing two suspects for Joseph's murder.
http://www.newsday.co.tt/news/0,76486.html
Priest defends decision to keep murder witness out of churchyard
by Gyasi Gonzales
trinidadexpress.com
FR Garfield Rochard said yesterday that he could not regret discouraging the main witness in a murder from entering the compound of the Assumption Church in Maraval. The man was gunned down on Saturday.
Harold Joseph, 50, was a main witness in a case against a man facing the courts for the December 1, 2007 murder of two of his friends, Anthony Boodoo and Wilfred Mohammed. The two were shot dead at the corner of Francis and Perogod Roads, Long Circular, following a heated argument with a man the day before.
Days after the murder of Joseph's two friends in December last year, Fr Rochard urged the congregation, during a mass, not to encourage him at the church, as his enemies could have attacked him on the compound putting other people at risk.
Full Article : trinidadexpress.com
Related:
State witness shot dead
A 50-year-old man who was in protective custody but left the safe house to visit a friend at Crystal Stream, Petit Valley, on Saturday night was shot dead near a bar. Harold Joseph's body remained on Alfred Valley road, Petit Valley, near Marmon's Bar on the roadway for several hours while police officers waited for a district medical officer to arrive.
Fr Rochard was right
Wednesday, April 9 2008
As we wrote in our editorial of December 16, 2007, Roman Catholic priest Fr Garfield Rochard had made the right choice when faced with the decision to either ban murder-witness Harold Joseph from the RC Church of the Assumption or to expose parishioners to the constant threat of being killed by thugs who were known to be looking for Joseph.