Guardian Editorial
Saturday 22nd March, 2008
guardian.co.tt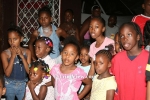 The President of the Republic, His Excellency George Maxwell Richards, and the head of Government, Prime Minister Patrick Manning, have, in their different ways, raised serious concerns about the current state of Trinidad and Tobago. In the instance of the Head of State, President Richards has warned about the challenge of staying on track amongst the recognised and viable states of the international community and not becoming a "failed state."

On a smaller scale, Prime Minister Manning talked about "this very troubled time in our lives." However, he confined his remarks to the disturbing issues that have to do with the "direction in which young people are going."
In the instance of the failed-state challenge, the social scientists who explore this decline so categorise countries whose institutions have broken down or are in the process of doing so. It certainly would be unfair and without foundation to suggest that our institutions here have broken down or are in large-scale deterioration—and we are not suggesting that President Richards did so.
Realistically though, there can be no ignoring statements of decay and decline which have come even from within institutions such as the judiciary and the criminal justice system as a whole; the unacceptable state of the family; the decline in the authority once held by religious bodies of every denomination; in the functioning of Government and in a range of other vital institutions where deterioration is self-evident.
As noted by President Richards, this slide is coming at the most economically prosperous time in the history of the country. Such a happening must certainly call into question the view that comes easily forward to explain deviant behaviours and social decline, supposedly relating them to a shortage of resources and poverty.
Whatever the level of poverty that exists in this country (one figure being 17 per cent) it must certainly have been allowed to develop through bad planning and administration in education, training and social and human development. That means Government and a variety of economic and social institutions, including the family, have failed to prepare our society for the times.
Unlike Haiti, for example, ranked as a failed state, without adequate resources and with a long history of inadequate or completely absent social, economic and political institutions, Trinidad and Tobago cannot blame historical factors.
The responsibility for any decline to failed-state status lies squarely with the generations of the last 50 years.
In the instance of the undesirable direction in which young people are said to be going, Prime Minister Manning ducks the issue. Children and young people are creatures of their upbringing and social learning. They have not turned in the wrong direction all by themselves but rather have been allowed to wander off and indeed have been deliberately encouraged in that direction by adults and society.
Responsible have been parents, the education system, Government policy or lack of it, poor examples by adults—including behaviours demonstrated in Parliament, Government and Opposition—the slackening of the influence of religion, the media and questionable exposure to undesirable behaviours portrayed in very glamorous ways.
We cannot have done wrong by our children and young people, then wake up one morning and heap blame upon them, shirking our own responsibility.
However, it is good that the President and the Prime Minister have made these observations. They must know that they have very central responsibility for facing the challenge and altering the direction in which our young people are heading. The State has given them enormous power and responsibility to influence change in these and other matters.