Express Editorial
November 13, 2010 – trinidadexpress.com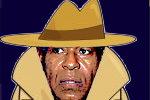 As the country watched in fascination, former prime minister Patrick Manning showed signs of having been stung into replying to his successor's revelations about the telecommunications intercepts perpetrated for five years under his rule . Until Friday, Mr Manning, now just another MP, had been mostly silent in the House. It was unseemly of the 39-year parliamentary veteran to insist on an unentitled opportunity to reply, thereby earning the rebukes and an eventual ejection threat from the Speaker.

Evidently, Mr Manning felt targeted by Prime Minister Kamla Persad-Bissessar's revelations of indiscriminate monitoring of citizens' private conversations, conducted with his authorisation, implicit or explicit.
That he remains personally answerable was later confirmed by statements of former national security minister Martin Joseph. The Security Intelligence Agency (SIA) interception facility had not reported to him, Mr Joseph said, but to the Prime Minister.
Full Article…
###
Correcting Wrongs
Newsday Editorial
November 14, 2010 – newsday.co.tt
When we thought Patrick Manning could not sink lower in public esteem, his disgraceful statement on Friday about the People's Partnership Government proved how wise the majority of citizens of this country were when they voted him out of office six months ago.
Cornered by Prime Minister Kamla Persad-Bissessar in Parliament on Friday on the scandalous revelations of the PNM Government's unconstitutional violation of rights by the illegal tapping of public and private citizens' phones, and unable to intimidate House Speaker Wade Mark into allowing him (Manning) to disregard parliamentary procedure which permits no debate or comment on a minister's statement, Mr Manning rushed to have a press conference in a committee room of the Red House even as the House was still in progress.
Full Article…
###
Spouses As Spies
SIA hired friends and relatives to be 'informants' at $20,000 a month
By Akile Simon
November 13, 2010 – trinidadexpress.com
THE Security Intelligence Agency (SIA) which was financed by the Ministry of National Security with no level of accountability, paid as much as $20,000 a month to "informants", who supplied no creditable information in the fight against crime.
The unit, which was not known to citizens or even police officers, consisted of close to 200 civilians and personnel from the Army and the Coast Guard. According to a reliable source close to the Canadian team hired by the Police Service to conduct a forensic audit on the SIA, allegations of corruption within the unit, "smell to the high heavens".
Speaking with the Sunday Express on condition of strict anonymity, the source said many of the agency's "informants" were friends, relatives and spouses of SIA personnel. These "informants" were paid in cash so that their identities would not be compromised by the tracing of bank records. The SIA had several bank accounts which were concealed as company accounts to avoid the exposure of the secret agency.
Full Article…
***
Patrick Manning distances himself from SIA controversy