Newsday Editorial
October 28 2010 – newsday.co.tt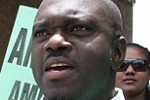 ANY responsible person is likely to be torn in his sentiment towards the wage talks between the Government and the Public Services Association (PSA) for members of the Public Service.
On one hand the Government's offer of 0-0-1 percent for the past three years respectively is quite startling, alarming and really impractical for workers who have seen no freeze in the prices they daily face over the same three-year period.

On the other hand, there is no doubt that Trinidad and Tobago is still in a big economic mess, with a huge debt incurred by the wanton squandermania of the former PNM regime, a stagnant economy, and a huge number of demands for special favours from an array of self-interested special interest groups who sometimes seem blind to the greater needs of the wider society.
PSA president Watson Duke has called for a $6,000 minimum wage for the Public Service which we find to be a demand that is just as extreme as the Government's 0-0-1 offer is unpalatable.
Sober heads must now prevail.
While 0-0-1 percent is disturbing, we doubt the Government could afford the PSA's demands which would further this year's Budget deficit reportedly by another $4.9 billion, just to pay one group, the PSA workers? What happens when workers in other sectors see this increase and then demand theirs, we ask?
Perhaps the PSA should have really pressed their wage-demands harder under the former PNM regime which maniacally spent this country's money, rather than now try to milk a dry cow by squeezing the broke new Government that is actually putting its shoulder to the wheel to try to lift the country out of the economic mire.
The new Government has had to resort to deficit financing to the tune of $7B due to lower than expected revenues from oil/gas and petrochemicals due to flat commodity prices globally, (although oil has made somewhat of a rebound). They must also fund the bailout of Clico and Hindu Credit Union (HCU) investors. Another call on the Treasury is the recent increase in the State pension to a basic sum of $3,000 per month.
At the same time of all these demands on the Treasury, all economic indicators are that the country is still in a lull, such as low levels of stock-market prices, low earnings on Treasury bonds, a recently lowered repo rate, and little or no growth in GDP.
So we don't think anyone should be seeking any huge increase in salary and allowances at this point in the country's economic history.
However, we also understand how offended public servants must feel by the offer of 0-0-1 percent. Inflation, especially due to huge hikes in the price of local food crops, continues to eat into workers' pay-cheques. Rents are perennially high in this country, and people incur other unavoidable costs such as transportation, clothing, and school-textbooks for their children.
However we certainly do not agree with Mr Duke's proposal of a Public Service minimum wage of $6,000 per month. There are surely lower-level posts that by virtue of the prerequisite certification and skills probably do not merit such a salary level, and indeed would not attract such a salary for the same job being done in the private sector. The other concern with a $6,000 minimum level is that it would likely serve to push up the wage-demand at each successive level of post above that starting point.
Indeed this is a key concern of wage negotiations: Whatever salary is being negotiated in the public-glare will inevitably affect the proverbial 101 other wage-claims that are not even at the bargaining table, with a multiplicity of other trade unions and occurring in both the public and private sectors.
So all in all we are dissatisfied with the negotiating positions of both sides in the wage-talks. We can only ask both parties to revisit their positions to achieve a fair and realistic solution in the not too distant future, so as to avoid the perceived need for any more "Blackout Tuesdays".
http://www.newsday.co.tt/editorial/0,129883.html