By Michael Harris
October 25, 2010 – trinidadexpress.com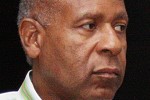 A spectre is haunting the PNM and unless that party can discover within its ranks a person, or persons, versed in the rites and rituals of political exorcism, it is likely to stay in its present state of limbo for a long time to come, incapable of undertaking the vital task of critical self-assessment without which it could never begin the task of reconstruction. The spectre has a name. Its name is Patrick Manning.

Ever since he led his party to the ignominious defeat in the general elections last May, Mr Manning has maintained a pointed silence. He attends Parliament religiously but says nothing. Not even in the budget debate did he deign to say a word. He appears and then disappears like the ghost who walks but does not talk.
In the immediate post-election days his reticence to speak or to appear at official party functions was ascribed to an uncharacteristic but nonetheless gracious and responsible unwillingness to appear to be upstaging his successor in the post of party political leader, Keith Rowley. But as the months have passed his silence has become so conspicuous that it has now led to a veritable cacophony of whispers from people within the party and outside.
Full Article : trinidadexpress.com