by Raffique Shah
January 27, 2008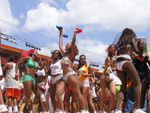 LISTENING to today's masquerade band leaders clamour for the Government to "run more money" my thoughts fall back on yesterday's greats-George Bailey, Harold Saldenah, Cito Velasquez, Irwin McWilliams, the Harts and the Lee Heungs, to name a handful. These creative geniuses, forerunners to Wayne Berkeley and Peter Minshall, presented generations of Trinidadians and Tobagonians with Carnival spectacles that remain forever etched in the minds of those who were fortunate to see them parade in the city.

With small armies of amateur wire benders and papier maché specialists, many of them masqueraders, these band leaders worked tirelessly for months to put on the road for two days masterpieces that could adorn art galleries anywhere in the world. What was the big prize they vied for? Up to 1960, the Band of the Year won the princely sum of $500! The increase that came in 1961 brought the winner of the coveted title $1,000. They never complained, griped or threatened to not play mas' because "de govament" was doing nothing to help. They and their loyal fans played mas' for love of Carnival.
Imagine young Bailey revolutionising the face of Carnival back in 1957 with Back to Africa. The seasoned McWilliams challenged Bailey with Cleopatra and the Kings. But Bailey, with themes like Relics of Egypt, Ye Saga of Merrie England, Byzantine Glory and Somewhere in New Guinea, swept the competition aside. In the meantime, Cito came west from Barataria to enter the fray in 1959 with Fruits and Flowers, McWilliams lit up the city with Wonders of Buccoo Reef-a combination of history and nature and fantasy coming alive and chipping, entertaining huge crowds of spectators. There was no cry for "de govament" to "run the money".
Today, and for some time now, mas' has become big business. Professionals are paid to "bend wire" in the few instances where that skill is still required (mainly in the costumes for the kings and queens of the bands). Costumes are sewn together by a battery of tailors, since we are talking here of envelope-size bikini-and-beads creations, with some sequins stuck on. Better still, they are imported in bulk from China, at costs much lower than what would obtain if they were produced here. The price to those who wish to "wine" on the streets, I am told, stands at a minimum of $3,000.
Add to the clear profits that accrue from Carnival days' activities the many band launches that are staged from as early as October of the previous year. Mark you, some bands "launch" here a few times (I sometimes wonder if they belong to NASA, not the NCBA!), and they snare the silly in cities in North America as well.
By the end of the season, smart band leaders can afford to sit back in luxury, quite literally, and plan again for the next carnival. The only thing creative about them is the many ways they devise to make even more money the following year.
Taxpayers do not have a problem with most of these bands transporting Maracas Bay onto the streets of Port of Spain for two days of bacchanal and revelry. What people have been asking, and with good reason, is why should we collectively fork out huge sums to support people engaged in orgies on the streets? As it stands, prize money for mas' runs into millions of dollars, and all of it comes from "de govament". The costs of policing the streets to protect masqueraders, and to provide the infrastructure for the parade of bands (really, the biggest "wining" contest anywhere in the world) are also prohibitive. Other than providing "eye food" for lecherous men (like me!), what do we get in return for these expenditures?
I am fed up with the ritual agitation of several stakeholders in Carnival, clamouring for more and more public funds every year. Mas' bands are among the main culprits. But there are others. The calypso tents, many of which feature self-proclaimed bards whose voices sound like old truck engines, demand Government funding. No audience of note, no singers worth their lyrics or melodies, but "run de money". Time was when there were two or three good tents where, even though their casts were padded with some less-than-ordinary singers, one could expect fare that would truly entertain. Now, but for a handful of "true true calypsonians", we are subjected to cured 'tatah', as Ras Shorty sang before he departed this earth in disgust.
Where are we going with Trinidad Carnival? Already, because we have succumbed to bikini-and-beads, we face stiff competition from Barbados, St. Vincent, Antigua and several cities in the USA. Were it not for the continuing evolution of pan music and the genius of a handful of genuine calypsonians, we'd slide out of the world rankings of carnivals and similar street festivals. It's a crying shame that must make those who have passed on turn in their graves. If Bailey and Sally and Cito and McWilliams were to somehow reincarnate and walk the streets on Carnival days, they would no doubt rush back from whence they came.
Look de Devil dey, they'd scream-and hasten back to heaven or wherever.