By GEORGE ALLYENE
Wednesday, January 23 2008
www.newsday.co.tt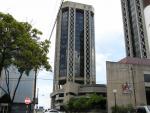 Monday's rapid fall of stock indices internationally, provoked by a severe and lingering contraction of the United States economy, the world's largest consumer market, has seen the lengthening of recession shadows over, not only the US, but Europe and Asia as well. In line will be Latin America and Trinidad and Tobago and the Caribbean as the US economy, troubled by a pronounced slow down in housing unit starts urged on by a credit squeeze and a fall off in jobs and, consequently, earnings, has not given any indication of righting itself.

World stock markets appeared unconvinced that a plan by US President, George Bush, to stimulate consumer spending through measures which would see the granting of approximately US$145 billion in tax relief to rouse the American economy, would work. Their concern was understandable if only because the American consumer is not insulated against economic misgivings of the world outside of the United States.
Should the economic recession deepen, Trinidad and Tobago, with the United States, for long this country's largest export market, will be faced with the spectre of its second major decline in economic activity, exports and revenue in two decades. In 1987, following on the collapse of international crude oil prices to less than US$9 a barrel from an earlier high of US$40 saw Trinidad and Tobago having to go to the International Monetary Fund (IMF) for assistance. The conditionalities imposed by the IMF were, if nothing else, harsh and oppressive and led to, in addition to job loss, a ten percent cut in wages and salaries in the Public Sector, both insisted upon by the IMF.
In turn, the recession meant, as indicated earlier, significantly lower international oil prices as well as reduced international oil sales, as well as regional, as the economically weaker Caribbean market, in a far worse off position than Trinidad and Tobago, was less able to pay for TT's crude exports and goods and services. This presented Trinidad and Tobago with an uncomfortable double whammy as Caricom was even then this country's second largest export market after the United States of America.
Meanwhile, even in advance of today's threat of recession in the United States and globally, there has been an erosion of Trinidad and Tobago's Caricom's crude oil market with the introduction by Venezuela, in 2005, of PetroCaribe. This is a facility through which several Caricom States, indeed the majority, are able to import crude oil from Venezuela, pay a portion of the price on delivery and the remainder over a period of years. On paper, it appears an attractive proposition as a Caricom country is better able, in the first two or three years at least, theoretically, not only to balance its Budget but to spend somewhat less of its foreign exchange on oil imports.
The benefit is questionable, however, for as the years go by the relevant Caricom States have to pay, not merely for the crude imported from Venezuela in any given year, but to agreed on deferred on year by year payments. Inevitably, there will come a time when the total annual payments will be greater than the cost of oil imported from Venezuela that year. But I have strayed.
PetroCaribe, with its targeting of TT's Caricom crude oil export market, will result not simply in an eroding of this country's export earnings, but that should there be a full blown recession Trinidad and Tobago will be less positioned to assist its Caricom partners with direct and/or indirect economic aid.
Governor of the Central Bank, Mr Ewart Williams, stated in an interview published in yesterday's Newsday that it was unlikely that a recession in the United States would, automatically, mean a downturn in this country's economy as TT's market is not as integrated in the US market as it once was. Integrated or not, however, Monday's dramatic plunge in global stock markets after "a weakening of the US economy" was an indicator that a US recession would impact, adversely, on all of this country's markets, whether Asian, European, Latin American or Caribbean. The United States is the world's largest consumer market and should there be a dramatic drop in American consumption because the US has gone into a recession, then judging by this week's nervousness on global stock markets this country will reel from the economic body blow.
http://www.newsday.co.tt/commentary/0,71998.html