By Derren Joseph
September 01, 2010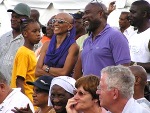 There was a most interesting YouGov poll conducted a couple weeks ago on the website for the Economist magazine – one of my favorite publications. One of the questions asked – Whether or not you think the Islamic cultural centre and mosque should be built near the World Trade Center site, do you think that Muslims have a constitutional right to build a mosque there? Interestingly, 53.2% of Republican respondents, 24.9% of Democrat respondents and 25.2% of Independents disagreed – they actually believed that Muslims did not have a constitutional right to build a mosque on what is actually private property. Although these polls may not meet the test for being statistically reliable, I would argue that they are quite insightful.

Another question asked – Do you think the Islamic cultural centre and mosque should be built near the World Trade Centre site, or not? In this one 88.3% of Republican respondents, 57.6% of Independents and 41% of Democrat respondents believed that a mosque should not be built there.
Much has been written about the so called "clash of civilizations" that these polls may point to, particularly the way in which an entire religion has been condemned because of the actions of a few. At the same time however, it may go a bit deeper. In that same edition of the online Economist, there is an article about the US Justice Department threatening to sue the popular sheriff of Maricopa County in Arizona if he did not comply with an ongoing investigation into discrimination against Hispanics. Stories of intolerance of course go beyond the borders of our neighbor to the north. There is a story about France starting to expel hundreds of Roma, most of them Romanian nationals, saying they were living in the country illegally. The European Commission, mindful of EU rules on freedom of movement, said it was "monitoring the situation".
Intolerance has always and perhaps, will always be among us. My view is that we live at a time in our world's history when the agents of intolerance are in the minority. We have only to look at the President of the United States. In the first YouGov question from the Economist above, even though so many Republicans were prepared to deny Muslims the constitutional right, overall, only 32.7 per cent of total respondents (Republican plus Democrat plus Independent) were prepared to deny the constitutional right of a person because of their religion. Coming back home now, Trinidad and Tobago is truly a special place. I am proud to live in a nation, which, though imperfect in so many ways, stands as an example of relative tolerance and harmony.
This tiny island remains one of the few places on the planet where so many ethnicities and religious persuasions co–exist in relative peace and prosperity. This is something that we should never take for granted. We have so much to offer the wider world and that is part of what makes tourism such an attractive industry to us, as we seek to diversify away from energy dependence. When we think about our nation as a tourist destination, few disagree that our unique selling proposition remains you and me. That is to say—we the people of Trinidad and Tobago. Where else on earth can someone experience Carnival in one month, Eid in another and Divali in yet another month. When St Lucia faced a lull in visitor arrivals in the month of May, they created St Lucia Jazz and successfully boosted visitor numbers.
Some argue that we in Trinidad and Tobago do not need to create anything from scratch as in every month of the year, there is some national festival or sports tournament that is almost "market ready". It does vary from year to year but typically – January and February is all about carnival, March is Phagwa, April is Tobago Jazz, May is Point Fortin Borough Day / Sugar and Energy Festival, June is We Beat in St James, July/August is Tourism Park/Great Fete in Tobago, September is Eid, October is the Steel Pan and Jazz Festival, November is Divali, December is Parang and Hosay, and we swing into Carnival again. To me, the declining energy prices and production could actually be a blessing in disguise.
Perhaps it would mark a shift in our collective focus towards embracing who we are with even greater pride while promoting our culture not only to those from other places, but also to each other right here at home.
My name is Derren Joseph and I love my country. As always, I end by saying that despite our challenges, we are so blessed to live in this beautiful land. Let us continue to have the audacity of hope in our country, as we embark upon the next chapter in our nation's history.