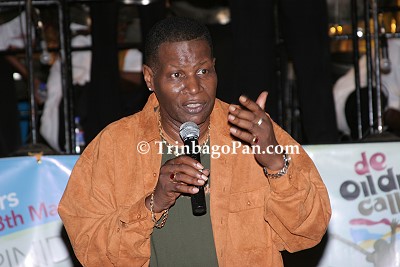 Terry loses fight against cancer
– January 03, 2008
Terry Joseph's Website
– trinicenter.com
January 03, 2008
www.guardian.co.tt
CULTURAL aficionado and writer Terry Joseph has died.
Joseph, 60, who had been battling with prostate cancer for the past year, passed away around 7 pm yesterday at Douglasville in Georgia, at his wife's home.
Joseph, a father of one, served as a cultural, political and football adviser to Fifa vice-president Jack Warner.

In a telephone interview last night, a saddened Warner expressed shock at Joseph's sudden passing.
"This has come as a shock to me because Terry never showed signs of giving up…He always had the will to live," he said.
"I thought he could have struggled, but he gave up."
Warner said he had accompanied Joseph to Korea recently for treatment, which lasted a month.
Two weeks ago, Warner said, Joseph returned to America, where his wife Laini Gilliam-Joseph lives.
Laini is a gynaecologist.
"He went back to America for additional treatment with the hope of getting better, because he was fighting for the past year," Warner said.
He said Joseph deserved a grand send-off because he was known and loved by many.
"Whatever has to be done will be done," Warner added.
Warner described Joseph as well loved.
Joseph spent his last days happy and in the company of family and friends, says his wife.
She said he knew he was going to die, and that's why—despite feeling unwell—he insisted on travelling to the United States to be with her.
"It was our first Christmas in our new home in Douglasville, Georgia," she said.
"We had Christmas dinner…it was nice and relaxing. We spent the day with family.
Gilliam-Joseph said her husband was scheduled to return to Trinidad tomorrow, but when she realised his condition had worsened she rescheduled his flight for next Friday.
In his final hours, she said, her husband mumbled a lot. He never complained of pains.
"I prayed with him. He did not want anyone in Trinidad to see his weaknesses. That's why he came," Gilliam-Joseph said.
She said Joseph had chemotherapy two weeks ago and "it was killing him."
Joseph's wife said she had noticed signs of his illness two years ago, during a social call at Warner's house.
www.guardian.co.tt/archives/2008-01-03/news14.html
trinidadexpress.com
January 04, 2008
Members of the media and the cultural fraternity poured out their heartfelt support to the family of cultural aficionado and writer Terry Joseph yesterday.
The 60-year-old, who had been battling with prostate cancer for the past year, passed away around 7 p.m. Wednesday at his wife Laini Gilliam-Joseph's home in Douglasville, Georgia, USA.
Full Article : trinidadexpress.com