By Stephen Kangal
December 23, 2007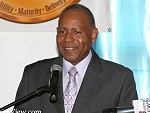 The Manning Ministers have been selectively and actively preaching that the issue of instituting measures to arrest the crime pandemic will always be treated as a politically non-partisan matter. But PM Manning will not practice it and come out from his political crease when the occasion demands.
Mr.Winston Dookeran a former MP, Central Bank Governor and Leader of 148,000 citizens who are now without representation in Parliament, pounded the pavement and endured the pouring rains in front of Whitehall on Thursday with a large group of followers. His mission was to highlight publicly the further escalation of murders and the impotence of the Manning Cabinet in being able to reduce and stem the rising tide.

A group headed by Mr. Dookeran attempted to deliver to the Government the results of dedicated work by COP that gave rise to an impressive one hundred point anti-crime plan. But he only succeeded in having an audience with a "post-box" adviser, Herbert Atwell.
PM Manning would have made a most powerful statement had he symbolically telegraphed that crime was indeed the "numero uno" issue and was being treated by his Government as politically non-partisan. He would have conveyed this message, cognisant of the co-operative conduct of the COP to his Government on the Bail Bill, had he excused himself from Cabinet Meeting at noon to meet Mr. Dookeran personally for five minutes. Or he could have sent his failing Minister of National Security to receive the Plan for the cameras. But no, T&T is the patrimony of the PNM by divine right.
But true to his post -Uganda pronouncements everybody must now shut up! Mediocrity is in charge.
His Ministers taking their cue from the PM now also see everything with political lenses. Instead of showing graciousness for a vote of confidence and competence in him from the COP in calling for him to be Minister of National Security, Minister Keith Rowley has to utter some foolish, arrogant diatribe about the PNM appointing ministers (when they do not) and some garbling nonsense about 'elections over".
Why must the members of the PNM Administration conveniently assess all serious, solutions-based proposals from non-PNM forces in raw political, partisan terms? Does the ailing and bungling Manning Administration have all the answers for effective governance?
In the post-elections period I am detecting a hardening of the escalation of arrogance on the part of Manning, Imbert and Rowley in their latest responses to crime (Panday), Parliament inauguration and the COP Crime Plan respectively.