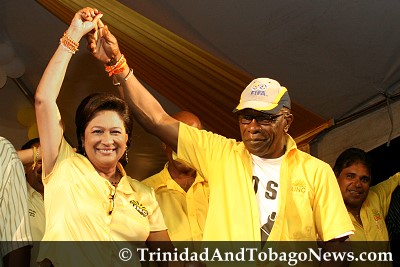 July 28, 2010
Chamber congratulates PM Kamla and Partnership
Kamla: T&T must not go back to old days
T&T must never go back to the days of the "old corrupt, arrogant, self-serving politics of the past," says Prime Minister Kamla Persad-Bissessar.
Absent PNM MPs affected Diego results
Significantly two of the three MPs, Diego Martin North East MP and former Works Minister Colm Imbert who was also an aspirant to the PNM political leadership and Amery Browne were absent from the local government election campaign.

Don't be tempted by corruption
Local Government Minister Chandresh Sharma yesterday warned newly-elected councillors to resist any temptation to become corrupt.
Power shift in Sando
THE reins of power has shifted dramatically in the San Fernando City Council following Monday's Local Government election which saw the People's Partnership taking the majority of seats in the 14 regional corporations across Trinidad.
Campaign officials surprised over PNM win in P/Fortin
'Point', San Juan unchanged, San Fernando continues
2010 Local Govt Elections results
99 seats for Partnership, 35 for PNM
A local government councillor earns $4,500 a month, which is inclusive of a $300 phone allowance and $700 travelling allowance.
Who will be new mayors?
THE names of two successful councillors, one a re-elected UNC councillor in the Chaguanas Borough Corporation and the other a first-timer from the COP at the San Fernando City Corporation, are among potential Mayoral candidates following last Monday's Local Government Elections.
Back to the drawing board says Penny
Leader of Opposition business in the Senate Pennelope Beckles says the People's National Movement will have to "return to the drawing board."
Jack now eyes Tobago
UNC chairman, Jack Warner, has stated that having defeated the once-ruling PNM twice in two months via the coalition party, he has now set his sights on what he says is the final electoral victory – the election for the Tobago House of Assembly, (THA).
No honeymoon, get to work!
Newly elected Local Government councillors were told yesterday they would be outfitted with offices and given phones to stay in touch with their constituents, and could expect no political honeymoon.
Clean up to prevent spread of dengue
Health Minister Therese Baptiste-Cornelis has told newly-elected councillors to take charge and ensure dengue does not take over the country.
The PNM challenge
It would be a further debilitating mistake were the PNM, particularly its new leader, Dr Keith Rowley, to believe that all the political damage done to the party can be laid simply at the door of its former political leader, Patrick Manning.
Rowley: PTSC bills will be paid
Opposition Leader Dr Keith Rowley has said he hoped Housing and Environment Minister Dr Roodal Moonilal was paying his own house mortgage.
Now to governance
Congratulations are clearly in order for Prime Minister Kamla Persad-Bissessar and her People's Partnership for their resounding victory in the Local Government Elections on Monday.
Will Partnership be 'runaway government'?
Issue is to prevent any dictatorship
July 27, 2010
MORE LICKS
It's still the People's Partnership time now. It now has control of both Central and Local Government.
Kamla's PP trumps PNM
Prime Minister Kamla Persad-Bissessar yesterday did trump and follow-suit in resoundingly winning the local government poll after her emphatic general election victory two months earlier.
Kamla: People's victory complete
TWO MONTHS after the People's Partnership scored a resounding 29-12 General Election win over the People's National Movement (PNM) on May 24, the Partnership "completed the victory" by decimating the PNM 11-3 in the Local Government Elections yesterday.
We killed PNM till I dead myth
COP wins Arima
CONGRESS of the People (COP) leader Winston Dookeran last night hailed the People's Partnership's (PP) sweep of 11 of the country's 14 regional corporations, in the Local Government Elections, as "a significant victory and tremendous mandate."
2010 Local Government Election results
People's Partnership = 11; PNM = 3
Gypsy on Mayaro win: We've wiped out PNM
Mayaro MP Winston Peters says the People's Partnership scored a second victory in the local government election by taking the Mayaro/Rio Claro Corporation.
It's vote of confidence in Kamla says Moonilal
Opposition supporters stayed away, says Kamla
THE low voter turnout at yesterday's polls was caused by People's National Movement (pnm) members withholding their vote as a sign of protest, Prime Minister Kamla Persad-Bissessar said last night.
Rowley: PNM needed a miracle
IT WOULD have taken "a miracle" for the PNM to win yesterday's Local Government Elections, PNM political leader Dr Keith Rowley said last night as he conceded defeat in the polls, arguing there was not enough time for the party to regroup after the May 24 General Election.
Rowley not surprised by huge 11-3 defeat
Rowley: I'm good, but not that good
PNM leader on election defeat…
Rahael: PNM holds 'jewel in the crown'
People's National Movement (PNM) election campaign manager, John Rahael, said he was always confident the party would have held on to the Port of Spain City Corporation, which he described as the "jewel in the crown" of regional corporations.
'Extremely poor' voter turnout in Sando
MP: PTSC bill can cost PNM Balisier House
Leader of Government Business Roodal Moonilal claims the PNM still owes the Public Transport Service Corporation (PTSC) money for bus services provided to them before the May 24 general election.
Top cop boasts of crime-free election
'Balance is key'
POLITICAL analyst Dr Selwyn Ryan feels a big Local Government election loss for the People's National Movement would not be the "best thing" for Trinidad and Tobago.
And now, time to deliver
Relatively early last evening, the People's National Movement (PNM) Political Leader Keith Rowley conceded defeat in yesterday's Local Government Elections. As campaign manager John Rahael had earlier done, Dr Rowley projected readiness to take in stride an outcome the leader characterised as a "comprehensive" defeat.
And now on to the budget
Yesterday's local government election brings to an end one of the most intense periods of democratic activity in this country's history.