By Stephen Kangal
December 14, 2007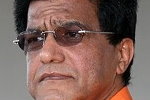 In a crafty surgical strike designed to stem the upward political mobility of Winston Dookeran and political emergence of Anand Ramlogan, the master puppeteer has resurrected Ramesh from the proverbial political cemetery in which he interned him after the 18-18 tie, 2001 general elections. The predictably blind and politically naive of his declining UNC base supports this resuscitation even though he was stigmatised as the great betrayer.

This forced opening of the proverbial Panday Box has consequences which even Panday, the master tactician and con artiste will be unable to manipulate or control. Will sister Kamla be a disinterested observer and continue to crawl on her belly as a victim of another Brahmin conspiracy hatched to sideline her and install a dissident?
Mr.Panday is the supreme -cut- and- paste and contortionist artist having regard to the ease with which he can erase the events of political history and memories of neemakharamism/treachery from his chelas. They have now slavishly and like devoted chelas supported the political re-incarnation of "sack cloth and ashes" Ramesh. The latter is not known to nor has demonstrated any track record of building a political institution from ground zero level. Piggy backing is his forte.
He is the one who singularly brought down the 2000 Panday Administration. Unlike Mr. Dookeran, Ramesh summarily dispensed with his loyal followers in Team Unity post-2001. He could not establish anything viable resembling a political base.
In one year of hard work Mr. Dookeran, a true political visionary and planner, gave life and breath to the galloping, broadly-based, organisationally strong and truly national party, the COP. COP's emergence is the real threat that the perpetuation of the Panday dynasty cannot condone nor ignore.
Ramesh will use his re-incarnation as Chief Whip within the UNC to launch his leadership stakes. That is his political right. But his traditional, raw bulldozing modus operandi will result in either UNC implosion or exodus of MP's to the safe haven provided by the COP umbrella or both. Ramesh will court a strategic lethal alliance with UNC majority shareholder and political novice, Jack Warner in the former's vaulting ambitious bid to take over the UNC. That is the vehicle that he will rely upon to propel him into his life-long, elusive goal of Prime Ministership.
The seeds of his not-so-secret, incipient take-over political agenda have already been sown. Witness the vocal Gasparillo demonstration and proposed crime march to POS, arming of his Tabaquite constituents and proposed police posts to be housed in his offices. His clear public eclipse of the wounded lion by his immediate and ubiquitous hold over and monopoly of the media space as UNC spokesman is neither accidental nor circumstantial.
Political ambition, however, must be made of sterner stuff.