By Lara Pickford-Gordon
June 21, 2010 – newsday.co.tt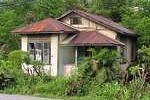 I think it was Trade and Industry Minister Stephen Cadiz who described the persons illegally squatting on land at Cashew Gardens, Longdenville as behaving as if it was the wild, wild west when they rushed and staked a claim to land.

Indeed many of us will agree that TT has turned into the wild, wild west for quite a long time and what is happening at Cashew Gardens is yet another example of the wanton lawlessness that has taken over the country. As a true Trini they have an excuse for not obeying the rule of law. It is because Prime Minister Kamla Persad-Bissessar said she planned to regularise squatters. The fact that she was speaking about those persons occupying spots for a number of years is something the new squatters have chosen to ignore.
I have nothing but sympathy for those persons who are languishing for a place of their own but what is occurring at Cashew Gardens and other areas will not turn out good when thuggery, intimidation and violence set in as when people start jostling each other for land they do not own.
The squatters were behaving wrong and strong. Hear the rationale of one squatter, "We have nowhere to live. Since 2003 we taking spots over and over so this year we decided to come back". The squatter went on to justify her action "not everyone is fortunate to grow up in the laps of luxury" she said.
Full Article : newsday.co.tt