newsday.co.tt
Sunday, September 30 2007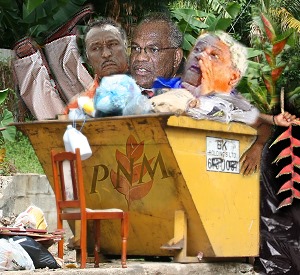 Diego Martin Central Mp Ken Valley has been rejected as a candidate by the PNM Screening Committee.
Sources said Prime Minister Patrick Manning in his capacity as Political Leader met with the Screening Committee on Friday evening, shortly after naming the election date and recommended to the Screening Committee that the Diego Martin Central constituency executive be instructed to search for a new nominee(s), from which to select a candidate. The Screening Committee's decision- that the search continue for nominees — has not yet been communicated to the Diego Martin Central constituency executive. The search for a new candidate therefore has not yet started 33 days before the General Election. However sources said Manning had a candidate already lined up. Sources added that it would not be Foreign Affairs Minister Arnold Piggott, but a political neophite.

During last Thursday's screening session the constituency executive declared that it was happy with Valley, the only nominee. Sources said Manning asked the constituency executive whether they were comfortable with Valley and they said yes. He also asked whether they had any other candidate and they replied no. Valley, who is a Deputy Political Leader, Trade Minister and was Leader of Government Business found his quest for candidacy stymied when Manning asked him to consider other options at a Whitehall meeting.
Manning said he was raising this issue, in the light of Valley's poor showing in a performance poll. Valley however refused to bow out as a candidate. His screening was later postponed by the Screening Committee and it was only after the Central Executive ruled that he be screened, that the session was held last Thursday. Valley declined comment yesterday.
http://www.newsday.co.tt/news/0,65098.html
Screening team dumps Valley
Another stalemate has arisen between PNM political leader Patrick Manning's screening committee and MP Ken Valley's Diego Martin Central executive, after the committee instructed the executive on Friday night to "continue the search…