Saturday, September 22 2007
www.newsday.co.tt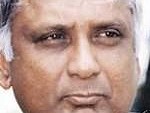 Suspended Chief Justice Sat Sharma insisted yesterday that he did nothing wrong when he spoke about the Basdeo Panday integrity trial to Chief Magistrate Sherman Mc Nicolls last year.
Sharma told the three-member tribunal that he was a man of integrity. Sharma is being cross- examined by Stanley Marcus SC, the lead attorney for Mc Nicolls at the hearing at Winsure building, Port-of-Spain.

He said he read in the newspapers last year that the Panday trial had begun before Mc Nicolls. He also admitted having a conversation with Sir Timothy Cassel aboard a BWIA flight from London. "When I saw him (Cassel) I asked him what matter he was coming to do now. Sir Timothy said he was prosecuting the Panday matter. I then said to him, "Tim, like you have a weak case." Sharma continued, "I told him that Panday was going about the place saying that the funds in the bank account were not under his control. We were both having drinks and he said wait until he opens his case."
MARCUS: Where did you hear that?
SHARMA: I read that in the newspapers.
LORD MUSTILL: It seems that's the way of communication in Trinidad.
SHARMA: It was a banner headline.
MUSTILL: I believe that.
Sharma said that conversation with Cassel was not improper. "There was nothing wrong with that. This was said in banter and jest. I have great pride and integrity. I did not think that that innocuous statement caused all this. Otherwise, the legal profession will be sterile. If I had to disqualify myself on a ground like that, I am not fit to be a judge."
Marcus then asked Sharma if Panday visited him at the Hall of Justice before his case.
Sharma replied, "Yes, I sent a message to him, through a counsel, asking him to come and see me. The fact that he had a case before the court and that he is a counsel, does not mean that I should not see him. We are in a realistic world. I think it was Mr Desmond Allum who carried the message."
Sharma said Panday came to his office and they discussed the Integrity in Public Life legislation and the fact that judges and magistrates were required to declare their assets. Sharma said he first spoke with the Prime Minister and he then decided to speak to the Leader of the Opposition. "There was heated debate in Parliament and I was under pressure from the judges. I spoke to Mr Panday and I appealed to him to resolve the legislation by getting it deleted."
MARCUS: Did you discuss the Panday case with Mr Mc Nicolls on March 21?
SHARMA: No.
MARCUS: Isn't it true that you congratulated him on the way he was conducting the Panday case?
SHARMA: There was no reason to congratulate him, the case had just started.
MARCUS: At least one newspaper was reporting it verbatim.
SHARMA: I glanced at the newspapers, I did not read the details.
MARCUS: Isn't it true that you put things to Mr Mc Nicolls as to what he should do in that trial?
SHARMA: I did no such thing.
MARCUS: Did you tell the Chief Magistrate that he must rely on the submissions of Mr Newman (Allan)?
SHARMA: No.
Sharma said at a meeting with the Chief Magistrate, Mc Nicolls said he did not like how "they" treated Panday, that it was political. "He (Mc Nicolls) said he was impressed with the way Dr Duprey (Lawrence) gave evidence and that both sides had good arguments. Mr Mc Nicolls was expressing his view in the Panday case. I did not think that I should have stopped him. Mr Mc Nicolls comes all the time for assistance, that is how the law develops." Sharma will be further cross-examined on Tuesday.
http://www.newsday.co.tt/news/0,64633.html
AG Jeremie: CJ's charges offensive
Attorney General John Jeremie said yesterday that he is not going to respond to the scurrilous allegations made by the attorneys for suspended Chief Justice Sat Sharma.
Tribunal gets JLSC report
The Judicial and Legal Service Commission (JLSC) has disclosed the Stollmeyer report to the tribunal appointed to investigate claims of misconduct against suspended Chief Justice Sat Sharma.