By Stephen Kangal
September 14, 2007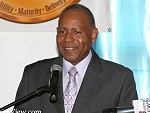 In denouncing some of his Ministers' current stewardship, it is clear that PM Manning has unwittingly telegraphed that he alone has the exclusive right over the pursuit of fame, power and fortune in politics. The criteria of having a "level head and common sense" for ministerial appointment was never met by the author himself having regard to his weekly blunders and recent display of $200m of regal splendour and opulence. Now a performance audit resulting from a secretive poll is in the PM's back pocket as the sword of Patos. The results of this suspect poll will take precedence over the democratic will of the respective PNM constituencies in new candidate selection.

It is clear to most people that Mr. Manning himself is obsessed with a pathological accumulation of fame (Father of the Nation), power (Executive President in the making) and fortune (3 salary increases and appointment of his wife as Education Minister). I understand that his son is the exclusive supplier of the 100,000 street lamps that were installed and $1bn of fortune went to PNM CEPEP contractors creating several millionaires.
The Ministers alone must take the vow of poverty and wear sack cloth and ashes.
Mr. Manning cannot cast the first stone against his Ministers because he has ridden roughshod over the welfare of the people. He has been flaunting the trimmings and trappings of a constitutionalised dictatorship without accountability, transparency and integrity. He does not meet the selection criteria that he has concocted to pursue his politically suicidal vendetta against certain of his Ministers for whom I hold no brief and for whom the political bell now tolls.
The Ansa/McAl polls have consistently given PM Manning very low ratings below Winston Dookeran. Only the 2007 electorate can send the Bunny Energizer going and gone into oblivion.
The essence of any objective performance evaluation is that it cannot be secretive. The assessed must see the assessment criteria as well as the result and be able to defend himself according to the rules of natural justice.
Does the Education Minister meet the criteria used having regard to the perennial disaster at that Ministry with 17 schools still closed to date? Is the PNM General Council aware of the poll and did it sanction this performance audit using clear- cut and established scientific methodology for the sake of accuracy?