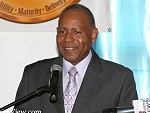 'It's all about love'
Prime Minister Patrick Manning yesterday delivered a "love budget" in which he gave big hugs to all pensioners, the ill, disabled and the poor. And he blew kisses to the delinquent taxpayer and the prudent saver as well as the returning national.
The $$ flow freely
…for pensioners, Cepep, URP workers, minimum wage earners
Increases in old age, National Insurance and Government pensions, wage hikes with backpay for Community-based Environment Protection and Enhancement Programme (Cepep) and Unemployment Relief Programme workers, plus a proposed Minimum Wage of $10 were presented to the public yesterday in Prime Minister Patrick Manning's final budget of his term…

Almost $8B for Hazel's Ministry
Education, health get hefty servings
A Poor Man's Budget
Budget 2007/2008, which will be a whopping $42.3 billion, is geared at putting the less fortunate in a better financial position as the nation gears up for the upcoming general election.
Kamla: Not enough $$ for health, agriculture
Manning goes on…and on
"These days my friends call me the Energiser Bunny, you know…I keep going and going and going," Prime Minister Patrick Manning told the Opposition benches yesterday…
Backpay for URP, Cepep workers
The hourly minimum wage is going up to $10…
PM: Tax incentives for energy firms
Prime Minister Patrick Manning yesterday pegged his 2007-2008 $42.2 billion budget on an oil price of US$50, five dollars more than last year's US$45…
Budget called by Ryder Scott
Congress of the People (COP) leader Winston Dookeran claimed Prime Minister Patrick Manning was panicked by dwindling energy resources into rushing through what he called "a half-baked National Budget."
Where the money will be spent
IN THE $42 billion budget for 2007/2008 announced by Prime Minister and Minister of Finance Patrick Manning, $8.1 billion has been allocated to the Ministry of Finance while for the other ministries $3.9 billion was allocated to the Ministry of National Security and $3.7 billion to Ministry of Education and $3.2 billion to Health.
Judiciary gets 46.1 percent increase
For the third year in a row, the word "judiciary" did not feature in Prime Minister Patrick Manning's Annual Budget presentation. Yet, the total Budgetary allocation for the judiciary increased this year, continuing a slight upward trend in allocations over the last four years.
National Security gets $4.4b to fight crime
Tobago's allocation sufficient for year
Chief Secretary of Tobago House of Assembly (THA) Orville London says the allocation given to the sister isle should address its needs for the year…
UNC, COP blast PM's 'love thing'
18 new police stations for crime fight
'An election budget'
The $42 billion, three-and-a-half hour budget presentation by Prime Minister Patrick Manning yesterday was described as a "campaign speech" given by a politician during an election year.