By Michael De Gale
August 15, 2007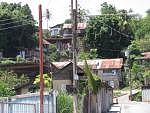 The government's intention to develop Laventille though politically tactical is also vitally necessary if the social ills of this area are to be alleviated. Not only does this make economic sense but strategic investments in troubled communities are a sure way to address the social evils which has historically plagued communities where poverty rules supreme. Progressive social thinkers supported by statistics, shows that crime thrives where hope is stifled. Survival has always been the law of the jungle whether literally or metaphorically speaking.

Studies have shown that communities that encompass business, recreational facilities, educational institutions, easy access to medical care and integrated housing become thriving communities because the main stake holders are those who live and work in these areas. However, to stop with the development of Lavantille is to short change the society as a whole. The present administration must embark vigorously on the development of a national poverty reduction strategy, involving the private sector and socially progressive organizations. This strategy must include sustainable jobs at living wages, affordable child care services, investments in health and education, as well as greater access to post-secondary education and skills training. There has never been a better opportunity for social and economic development in the past and the future is unlikely to produce similar opportunities as the climatic effects of fossil fuels is raising concerns globally.
A long term poverty reduction strategy would serve as a road map showing how government intends to address social problems other than the creation of additional incarceration facilities. The net effect of social investments will mean that the society as a whole will be the real beneficiary. In essence, give the poor a stake in the country and reasons to love T&T beyond soca, liming and perpetual bacchanal.
This however, should not be done without addressing Trinbagonians work ethics which leaves much to be desired. A public education campaign must be mounted to address this anti-productive / progressive issue. It is my contention, that Trinbagonians lackadaisical approach to work opened the door to imported Chinese labourers leaving the locals with idle hands in empty pockets.
I have been involved in programs where the government and the private sector joined forces to address the issues of youth gang violence, disproportionately high unemployment and geographic stigmatization in "priority neighbourhoods". While this work continues, the initial transformation and optimism was – to say the least – remarkable.
For the visionary, Laventille is arguably one of the most desirable pieces of real estate in the heart of Port of Spain. With an arresting view of the city, this mountainous land mass also provides an unobstructed bird's eye view of the blue Caribbean Sea. A diamond in the rough if you prefer. In the hands of profit driven investors and land developers, this apparent shanty town has the potential to become the most highly priced and sought after place to live in the city of POS. As a developed area, it will encompass unparallel beauty, convenience and modernity. This dichotomy means that the risk of gentrification can become a real and potentially thorny issue and must be zealously guarded against. In a sense, Laventille's hopes also contain the seed of its ultimate destruction. However, with eternal vigilance, gentrification could be avoided and the area could be developed for the benefit of its existing residents and the preservation of its enduring history. For its eternal support of the PNM, I could think of no better place where social development should start. Enough with broken promises! It's about time to bring out the bulldozers and to help the proud residents of Laventille realize their fullest potential.