By Richardson Dhalai
www.newsday.co.tt
Sunday, July 29 2007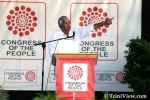 Congress of the People (COP) political leader Winston Dookeran urged residents of Laventille and Morvant to "rise beyond the narrow politics of the past" and usher in a COP regime at the next General Election.
He also called on the National Joint Action Committee (NJAC) to "join with" the COP to rescue the nation, when he addressed a public meeting at Harris Promenade, San Fernando, on Friday night.

"Today I make a call to the National Joint Action Committee to come with us in the Congress of the People so we can together take us out of this crisis that this Government has put us in," Dookeran said.
"I make a call to all the people in Laventille/ Morvant as we have done throughout Trinidad and Tobago in Barrackpore, San Fernando and Chaguanas, the time has come for us to rise beyond narrow politics of the past."
Speaking on the 17th anniversary of the 1990 attempted coup, Dookeran said true leadership was not about ''bravado and guntalk" but about "rolling up your sleeves and getting down to work."
"Leadership is about standing up for the citizens of this country and defending their rights to fundamental freedoms. Leadership is about knowing when to fight, how to fight and how to win," he said.
Referring to an alliance between several parties to form the UNC Alliance, Dookeran advised supporters not to be fooled by men who "talk leadership but fail to provide leadership."
"The last I heard was some said they would find a leader after the election," Dookeran said.
Also addressing the meeting was Pointe-a-Pierre MP Gillian Lucky; former National Security Minister Joseph Toney; IBN boss Inshan Ishmael and COP security advisor Capt Gary Griffith.
http://www.newsday.co.tt/politics/0,61460.html