By Leiselle Maraj
newsday.co.tt
Friday, July 13 2007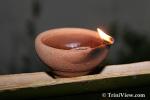 The Hindu American Foundation (HAF) has listed Trinidad and Tobago among ten countries in the world which abuse Hindus' human rights in its third annual Hindu human rights report for 2006 published on Wednesday.
The HAF is a non-profit, non-partisan human rights group, "promoting the Hindu and American ideals of understanding, tolerance and pluralism," according to the foundation's website.

The report, "Hindus in South Asia and the Diaspora: A survey of Human Rights 2006," listed ten countries and one state in India where Hindus constitute a minority: Afghanistan, Bangladesh, Bhutan, Fiji, the Indian state of Jammu and Kashmir, Kazakhstan, Malaysia, Pakistan, Saudi Arabia, Sri Lanka and Trinidad and Tobago.
Notice of the report's existence came from a release from HAF Executive Director, Ishani Chowdhury, sent to Newsday by Radio Jaagriti CEO Devant Maharaj. Within this release HAF executive council member and the report's primary author, Ramesh Rao stated the countries were not "rank-ordered in terms of level of discrimination and human rights abuse" and their listing did not mean that each was an abuser of human rights "to the same extent."
Its summary stated that "racial and religious animosity between Afro-Caribbean and Indo- Caribbean (people) has been exacerbated over the years.
"Indo-Trinidadians have been systematically denied government benefits and employment in government service. The police have too often ignored attacks on Hindu-Trinidadians."
Almost seven pages of the 200-plus page report are dedicated to detailing instances where the human rights of Hindu-Trinidadians have been abused.
It stated that contrary to the Constitution, Hindus in Trinidad and Tobago "experience discrimination and violation of their human rights in religion, culture, politics, economics, education, employment, housing, and health."
"Worse yet, Hindus and Indians are targeted by organised gangs of kidnappers and murderers."
The report also stated that Hindus were not allowed equivalent sums of money to organise religious and cultural event, as given to Christian groups and are sometimes not allowed outright to hold such events.
The report claims that "the People's National Movement ruled for 30 consecutive years without appointing a single Hindu as a government minister. The cry of rural neglect, alienation, marginalisation and discrimination affected the political psychology of Indians as they lost hope of ever winning a general election."
It cited the Trinity Cross issue where a new name and symbol for the nation's highest award is yet to be commissioned and the seven-year legal struggle by Sanatan Dharma Maha Sabha Secretary General, Satnarayan Maharaj for a radio broadcast license. Maharaj told Newsday yesterday, he read the report and said that Hindu discrimination in TT "is not an invention but a fact of life which we see happening all around us."
"A number of US congressmen are alerted to the fact that Trinidad and Tobago discriminate against Hindus. There is no question that this report is accurate as it is on court record that the Hindu community was discriminated against in the radio license case."
HAF recommended that the United States should encourage the TT Government to abide by the Constitution and guarantee safety and security to Hindus and Indo-Trinidadians.
http://www.newsday.co.tt/news/0,60484.html
UPDATE: July 15, 2007
Re: Hindus under attack in TT
Where is the evidence?
Hotep
July 15, 2007
The allegations made by the Hindu American Foundation (HAF) in the article "Hindus under attack in TT" come over as another propagandist, politically-motivated attempt to solidify Indians around election time.
There is no evidence to date that kidnappings in Trinidad and Tobago are racially motivated. It appears that kidnappers are of the two majority races in the country and they are targeting people who they believe have readily available cash and reside in areas where there is less security.
However, there is evidence that some of the reported kidnappings were staged and most of the people involved in fake kidnappings, in an attempt to extort money from their families, were Indians (See: "Fake kidnapping inquiry" and "She faked kidnapping to raise $100,000").
The state's refusal to grant Sat Maharaj a radio license was not necessarily because he was Indian and Hindu. It could very well have been because he has a history of making outrageous and racist statements against African people. There are several Indian radio stations in Trinidad and Tobago, but not one African radio station. Prior to the many Indian radio stations, the state media hosted Indian/Hindu programs on an almost daily basis for around twenty years. Sat Maharaj also had programs on the state media. There were never sustained African oriented programs on the state media: just tokens around Emancipation time. The people who make these claims of Indian and Hindu discrimination are not substantiating these allegations. They are just being sensational.
Another example is in the police service. How many Indians/Hindus applied to the police service and how many were able to pass the tests and were refused? Without this information we could be looking at something totally different. For example, we do not see many Indians coming forward to play football, but they do come forward to play cricket. So we cannot conclude that the absence of Indian footballers is as a result of racism. Traditionally, Indians did not participate in certain sports like football and basketball. Also, Indian families discouraged their children from joining the army and police services. Raffique Shah has written about this (See: Memories of Regiment's first Indian officer…a personal experience).
On the other side, we have many claims of Africans trying to get into the field of medicine and other sciences in the UWI medical fraternity and they were not accepted despite meeting the requirements. Some of them who were refused entry went to other universities abroad to pursue their careers in those fields. There is now a call for the medical fraternity to be investigated surrounding these claims (See: Prof hits admission policy of Mt Hope medical school).
The allegations in the article imply that Indians and the Hindu section of the Indian community are being targeted for racial and cultural discrimination against them by the state and other ethnic groups in the society; they are not bringing forth the evidence to substantiate this. People who believe this should present the evidence so that it can be discussed and dealt with.
http://www.trinicenter.com/tnt/2007/150707.html