By A. Hotep
July 01, 2007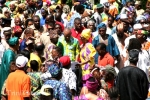 There have been many complaints over the years from the public that the medical fraternity discriminates against Africans who seek to become doctors. The response was a generalization that Africans were not applying themselves for entry into the medical fraternity. Many of us knew that was not true, but those in charge did not feel inclined to investigate the racism in many of the learning institutions, including the University of the West Indies. Now that Professor Bartholomew appears to be making a similar claim, suddenly it is being taken seriously.

In a strongly-worded letter to Minister Mustapha Abdul-Hamid, Minister of Science, Technology and Tertiary Education and copied to the Prime Minister, Patrick Manning; John Rahael, Minister of Health; and the Dean of the Medical Faculty, Dr Phyllis Pitt-Miller; Prof Courtenay Bartholomew, Emeritus Professor Medicine (UWI), has criticised the admissions policy of students for entry into medical school in Mt Hope.

"Over the years I have received many complaints of alleged discriminatory or preferential admission practices in the selection of certain students for entry into medical school here, several of which I am sure are not valid. However, I could not personally verify any of these until it was experienced in a most glaring way by two members of my competent and dedicated staff of the Medical Research Foundation, who in addition to their A-Levels had BScs from very reputable universities in the USA and impressive extracurricular health-related activities while there.
(See: Prof hits admission policy of Mt Hope medical school)
Perhaps having recognized that there may be validity to the claims of racism, Louis Lee Sing (a staunch PNM member and beneficiary of PNM largess), called in to the Umbala program on his radio station i95.5 FM and attempted to distort the intent of those who genuinely lobby for more African awareness before he attacked an opposition member of parliament and the medical fraternity (which is also seen as an arm of the opposition party) for discrimination against Africans.
An audio clip of Louis Lee Sing's comment on i95.5 FM during Umbala's show on the morning of July 01, 2007
[audio:LouisLeeSing010707.mp3]
The preamble to Louis Lee Sing's politically motivated support for the claims made by Professor Bartholomew is a distortion at best, while clearly showing the abject contempt he holds for African culture and African people.
Louis Lee Sing said:
…We are about a better Trinidad and Tobago. We are not about a better Africa or a better India; we leave that for people who live far away from here and are no doubt catching their times. In this place however, people are so happy they want to take us back to that place where people are catching their behinds and crawling on their bellies and bottoms and we will not permit that to happen in this society…
Successive governments, starting with the PNM, have all contributed to the racism that exists in society by continually denying that racism exists in many quarters except during political hustling. They have all suppressed efforts to develop awareness from the African point of view to help redress the colonial brainwashing that fuels racism against Africans, and from the racism that is part of the Brahminical Hindu caste system.
It has been a common banal tactic of certain PNM members to claim that African cultural awareness programs have been about trying to take people back to an imagined Africa, 'a backward Africa where people crawl on their bellies'. In the years that the political organization the National Joint Action Committee (NJAC) was politically active, PNM members told the public that if NJAC won the elections people would be forced to change their names and wear dashikis. The idea of African names and dashikis was offensive to people who were colonized to feel that associating with Africa, African history and cultures was degrading. Of course, the degrading colonization worked and NJAC never got many votes in any elections although they fielded some of the more informed candidates.
One must remember that it was Louis Lee Sing who said that African historical and cultural programs on the radio would bring the nation to another Bosnia and Sarajevo. He stated this, on the first anniversary of Power 102 FM while he was a partner there, when asked why he does not support African programs on the airways.
Louis Lee Sing was in charge of the state media and for many years, even during his reign, the state media hosted daily Indian cultural programs. The state media called on members of the Indian community to put together cultural programs which they hosted. This was never extended to the African community except around Emancipation holidays when they allowed fifteen-minute segments of African information. The common argument was that the state media would not get sponsorship for such programs (a stupid excuse to start with), but this was proven not to be the real reason when I publicly lobbied and challenged the station to host my program, 'Dialogue', which I also sponsored. However, the popular program ended, and when callers enquired as to the reason they were told that there were not sponsors to continue it. However, several persons including myself publicly stated that in actuality our funds were refused. One business person stated that he was told by the stations program director to save his funds for some other program because they were restructuring the radio station and were not continuing the program, 'Dialogue', at this time.
Unaddressed racism is the reason there were not ongoing African cultural programs on the state media and is also the reason that in this country where there are so many privately owned media institutions, not one is dedicated to the African perspective.
The constant uninformed attacks from the highest echelons in society toward those who are urgently addressing racism, and seek to further do so through the media, contribute to the low level of interest in African-focused radio and television stations. Many have seen the evidence that the state would not endorse such stations, and the public, who by and large are mostly not sensitive to the value of an African cultural format, would not assist and defend such a venture.
While some people could now be less opposed to admitting that racism is taking place in the medical fraternity (even if only for their own partisan political motives), for years some Africans have been expressing similar sentiments and have been denied space in the media to expand on the many aspects of institutional racism as they exist. We have been denied space in the local media to assist in addressing racism through increasing African cultural awareness that could help remove some of the negative stereotypes, while raising self-esteem. So while some are calling on the government to investigate the medical fraternity, I would like to see those same ones acknowledge the role of the media in sustaining racism.