Thursday 28th June, 2007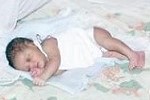 The alleged rape is reported to have taken place sometime between April and October 2006. Last week, doctors delivered the baby by Caesarean section because of the teenage mother's age, health and the size of the baby.
A 13-YEAR-OLD boy was among four students who appeared in the Princes Town Magistrates Court yesterday charged with raping a 13-year-old girl.

The girl gave birth to a baby at the San Fernando General Hospital last week.
The boys, aged 13 to 16, dressed casually and accompanied by their parents, looked saddened as they stood before Senior Magistrate Indrani Cedeno.
The accused students were represented by attorneys Richard Valere and Petronella Basdeo, while Sgt Jankinanan prosecuted on behalf of the state.
Cedeno, who said she was setting an example for others to follow, set bail for the teens at $3,000 each.
The mother of the 13-year-old, however, took her son's bail, with his father as security.
The matter has been adjourned to July 6.
©2005-2006 Trinidad Publishing Company Limited
Also Read: