By Raffique Shah
March 28, 2010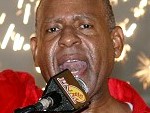 Lest I am accused of consorting with the 'drugs mafia', or worse, being a drug lord posturing as a journalist, I need to be very careful how I couch my words in this column. With Prime Minister Manning on the warpath against enemies more imagined than real, the last I want is police swooping down on me, looking for 'crack' cocaine.

Crack they will find: they just need to be careful about deadly methane I emit, part of my arsenal against the criminals of today. Maybe the police would deem the gas emissions illegal, since I have no licence to mine hydro or any other kind of carbon. But in this country one never knows what is legal or illegal. A citizen who chooses to hasten his or her demise by smoking cigarettes or endangering others' lives through second hand smoke can be charged and faces stiff fines, even jail.
But those who recklessly set bush fires that spread smoke over the whole damn country are free to laugh as hundreds of victims rush to doctors to get relief from respiratory problems that are aggravated by third-hand smoke. There is no law against that, no severe punishment for destroying the country's forests and watersheds, and ultimately, for triggering devastating floods when the rains do come.
Then again, this is Trinidad, a country steeped in contradictions, some of them so manifestly unjust, they make you feel like a prisoner in your homeland. But back to what I really want to focus on. Surely the elders in the People's National Movement (PNM), if there are any left, must realise there is something wrong with Mr Manning. It may be a medical condition that is psychiatric, possibly psychological, or who knows, even spiritual. I don't know, I shan't pretend to, since I am not knowledgeable in any of these fields.
In days gone by, when such erratic behaviour reared its ugly head, the elders would sit the leader down and counsel him. 'Listen, Sarge,' they would say, 'you are doing a great disservice to yourself, to your party and your government.' After his most recent outburst about the media being used by drug lords to target him in his one-man crusade against the illegal drugs trade, the elders would have noted the public's response to this outrageous statement.
'We don't want to remove you as our leader,' they would say. 'We believe, though, that you need to see a psychiatrist. You have grown very irrational over the past few years, and your condition has deteriorated recently. We shall arrange for you to have the best shrinks in Cuba examine you. It will all be very quietly done. We'd tell the Cabinet and the people you have gone to Cuba for another routine check-up. They know that you frequently do, so that will not cause a stir. Lenny (Saith) here will hold the reins for as long as is necessary. But we plead with you…take our advice. Save our party, for Eric's sake, if not ours or yours.'
Point is, are there elders left in the PNM? And if there are, do they have the balloons to engage Manning in such heart-to-Hart conversation? Dr Saith commands the PM's respect. John Donaldson is there. Who else? With the greatest deference to PNM chairman Conrad Enill, he seems to condone everything the PM says or does. I suppose he, and others like him, would say they are 'team players'.
Over the past decade, West Indies cricket players, captain et al, would chant the same 'team players' mantra. The one series the team won was against an improved Zimbabwe, and that just barely. But that's akin to the PNM flogging a Basdeo Panday-led UNC, or Barcelona beating up on Boccarro Buffaloes. It's a no-contest. Coming up against a revamped UNC under Kamla Persad-Bissessar, with the prospect of some kind of unity or arrangement with the COP, and now, possibly, a broad front comprising just about every trade union, NGO and groups-with-grouses, the PNM faces a formidable electoral challenge.
Frankly, I don't give a fried-fig where Mr Manning takes his party or who wins the next general election. My life, my status, and that of most people in the country, especially the poor and powerless, won't change for the better. We have learned the hard way that a change of government does not mean a change in the status quo as we have known it since colonial days.
But as a patriot and now an elder (I shan't arrogate unto myself 'statesman' title!), I worry about where this country is heading. Years ago, when climate change was first mooted, I thought I'd be long gone by the time its effects impact on us. Now I know differently. For years many of us have warned Mr Manning about going further down the heavy-industrialisation road. He laughed at us, flaunted the prospect of three aluminium smelters in our faces.
Last week, bpTT's Robert Riley finally spoke of the dire threats the economy could face once we remain gas-dependent: new gas finds are not keeping pace with demand. Would the PM now say Riley is on the drug lords' payroll? I shan't be surprised. Nothing Mr Manning says or does surprises me-not anymore. How he has morphed!