Newsday Editorial
March 08, 2010 – newsday.co.tt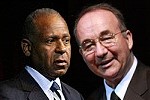 Weren't you surprised? That was the question put to Newsday by Acting Prime Minister and Acting Head of the Cabinet, Dr Lenny Saith on Saturday evening. He was referring to the flight earlier on Saturday by Calder Hart before he could answer the many questions about his role in Udecott.

News of Hart's resignation from Udecott and other State Boards had just been released via an unsigned announcement from Udecott, faxed to media houses. Some in Cabinet tried to weave a story about how Cabinet had decided to call on the Prime Minister to demand Hart's resignation. This was probably the reason for announcing that a media conference in the offices of Information Minister Neil Parsanal was cancelled shortly after it was announced. People had to get their "stories" coordinated.
But it was Acting Prime Minister, Dr Lenny Saith, who scotched any notion that there was a Cabinet input into Hart's sudden resignation and flight from Trinidad. Saith told Newsday: "The gentleman has done his job, he's resigned." He said that Hart's resignation "has come as a surprise", adding — "Weren't you surprised?"
Well, if Cabinet had called on Manning to demand Hart's resignation, how could Saith have been surprised. And to answer Saith's question to us we say, No. We are not surprised. And since when has Manning taken any advice from anyone except perhaps his Spiritual Adviser?
Once Madame Justice Mira Dean-Armorer's ruling shot down Udecott's and Hart's last desperate attempt to sabotage the Uff Commission of Inquiry, and the publication by Newsday and others of birth and marriage certificates showing direct links between Hart and the company to which he gave a multi-million dollar contract, we were on the lookout for Hart's flight from Trinidad, and from justice. And indeed, the authorities should also have been on the lookout for this.
While many may be breathing sighs of relief, and even cheering that this man has resigned and fled pending the presentation of the Uff Report, we caution all to remember that Hart's actions are really only the beginning of the long process of exposing much of the corruption and incompetence which occurred under his watch. The presentation of the Uff Report to President Maxwell Richards carries no assurance that it will ever be made public, and there is considerable precedent for that with Manning's government.
Whether we can persuade the DPP and the Commissioner of Police to act upon recent revelations alone remains to be seen. They may well stall, saying they need to see the Uff Report's confirmation of what we already know, and Manning may well keep the Report hidden. After all, can we forget that Manning went so far as to fire a senior Cabinet Minister and PNM stalwart in order to protect Hart?
But Keith Rowley, Ramesh Lawrence Maharaj, the Contractors' Association and JCC, as well as the local branch of Transparency International can all feel duly vindicated in advance of seeing the Uff Report. Hart's flight, on a reported one-way ticket on Saturday lays bare all of his denials and all of the preposterous praises Manning, Colm Imbert and others bestowed upon him.
We in the media claim no sense of vindication. We faithfully followed up on the revelations of Rowley and Maharaj, and we kept this story in the public domain, even when threatened with loss of government advertising, and even when Manning spuriously and self-righteously claimed that it was not "Calder Hart they are after, it is the Prime Minister". Manning has abused the media over this issue, but as we stated in a recent editorial, we are reflecting the concerns of the people — and Manning cannot pretend that the people hold different opinions than the media on this issue.
He too, has "fled", albeit temporarily, to attend prayers with the Queen of England. We ask, and not frivolously, if he has taken his Spiritual Adviser along? For his sake, we hope so for he has some serious explanations to provide upon his return, and the media have more questions to ask — such as, will Manning accept responsibility for Hart's actions?