By Kurt Nimmo, kurtnimmo.com
June 03, 2007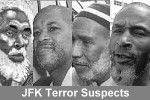 Russell Defreitas, the elderly and hapless patsy ensnared by the FBI for the crime of dreaming up a fantastical plot to blow up Kennedy Airport, "may have been inspired by Osama bin Laden," however "was not an al-Qaida wannabe, according to authorities. He told an FBI informant that he and other non-Arab Muslims in Trinidad and Tobago and Guyana wanted to do their part in the global jihad," Newsday reports. These "other non-Arab Muslims in Trinidad and Tobago and Guyana" are allegedly members of Jamaat al-Muslimeen, a Muslim group headed up by Imam Yasin Abu Bakr, who led members in an attempted coup d'état against the government of Trinidad and Tobago in July 1990. Bakr is a former policeman who converted to Islam while a student in Canada.

"U.S. and Trinidadian authorities have kept a close eye on the Jammat's activities since the 9/11 attacks, but there is no hard evidence tying the group to international terrorism, let alone al-Qaeda," writes Chris Zambelis for Global Terrorism Analysis, a Jamestown Foundation publication (the foundation is linked to CIA asset Richard Mellon Scaife and PNAC; members include James Woolsey and Zbigniew Brzezinski). "However, Abu Bakr did maintain links with Libya's Muammar Qadhafi in the 1980s and 90s and considers him a close friend to this day. The Jammat reportedly received funds through Libya's World Islamic Call Society (WICS) to finance the construction of its main mosque, schools, and a medical center, but there is no evidence linking Tripoli with the failed 1990 coup attempt. Abu Bakr's most recent publicized links with controversial international figures include Venezuelan President Hugo Chavez."
No, Russell Defreitas, according to the corporate media, is "not an al-Qaida wannabe," however he may prove to be a convenient link to Jamaat al-Muslimeen and Hugo Chávez, as the former is basically insignificant beyond the realm of kidnapping and drug smuggling, while the latter is a big fish with a lot of oil at his disposal and the neocons would love to demonize him as a terrorist, thus working toward his overthrow.
Recall, back in February of 2003, a Venezuelan man, Hasil Mohammed Rahaham-Alan, was arrested at Gatwick Airport in Britain, "allegedly carrying a live grenade in his baggage," according to the BBC. Naturally, the neocons over at the Daily Standard wasted precious little time attempting to link Rahaham-Alan to Hugo Chávez and al-Qaeda, the database. "The British Mail reported that al Qaeda operates a training camp on the Venezuelan island of Margarita," claimed Thor Halvorssen.
Venezuela, however, does not take kindly to baseless accusations and corporate media propaganda linking Chávez to the aforementioned database. "Venezuela levied charges against US cable network CNN for linking Chavez to Al-Qaeda, and against Venezuelan TV network Globovision for encouraging the president's assassination," Agence France Presse reported earlier this week. Not surprising considering the documented fact military personnel from the Fourth Psychological Operations Group based at Fort Bragg, in North Carolina, worked at CNN headquarters in Atlanta.
But never mind. I'll bet a dollar to a donut the corporate media eventually gets around to linking Russell Defreitas and his hapless patsies to Hugo Chávez, who is targeted for extinction by the neocons and their kissing cousins, the neolibs.
Reprinted from: http://kurtnimmo.com/?p=886
PLOT TO BLOW UP JFK
Trinidadian, two Guyanese arrested
Jagdeo: Terror suspect not a 'govt official'
UPDATE: June 04, 2007
Four Men Charged in Plot to Blow Up New York's JFK Airport
Plot to attack JFK airport was operational: FBI
See, the JFK plot was bogus
There is, too, the question of the role played by the unidentified undercover informant who befriended Mr. Defreitas. The informant is a convicted drug trafficker, and his sentence is pending as part of his cooperation agreement with the federal government, said the authorities.
I'm plotting to blow up Sea-Tac Airport
If you've watched TV, listened to the radio, read a newspaper or browsed the InterTubes in the past 24-hours, then you've surely heard about the "unthinkable" plot to blow up JFK Airport, that was foiled just in the nick of time:
Um… forgive me for being cynical, but we've been lied to so many times before, with Bush administration propagandists transforming the angry ramblings of narcissistic pizza-boys into sophisticated, 24-like conspiracies, well… I'm having trouble taking any of these stories seriously. I mean, I suppose I wouldn't chafe so much at the inconvenience of the enhanced security restrictions put in place in the wake of the infamous "plot" to bring down a jetliner by mixing a high-powered liquid explosive mid-flight, if the would-be terrorists actually had the resources or know-how to carry out their threat, or if the plan was at least, you know, scientifically possible.
UPDATE: June 07, 2007
A G-man in Every Plot; an Informant in Every Mirage
The great H. L. Mencken once observed, "The whole aim of practical politics is to keep the populace alarmed (and hence clamorous to be led to safety) by menacing it with an endless series of hobgoblins, all of them imaginary." Nowhere is this more evident than in the federal government's continual attempts to assure us that (a) we are in grave danger of being killed by terrorists and (b) the government – the same government that failed so spectacularly to protect us on 9/11 – is here to keep us safe.
The JFK Pipeline "Plot": Another "Chilling"
Example of Political and Media Hyperbole
The JFK pipeline plot appears to be the work of yet another gang that couldn't jihad straight.
Its ring leader made a living exporting broken air-conditioner parts to Guyana. Talk about your boom market! Where can I buy stock?
There was no set plan. There was no financing. They didn't have any explosives — and yet government officials were quoted calling the amorphous plot "one of the most chilling plots imaginable" that almost "resulted in unfathomable damage, deaths, and destruction." And people wonder why the public has become cynical about how the war on terror is being used for political purposes.
Casting a suspicious eye on some 'big' terror plots
Some of the more spectacular anti-terrorism busts of the last few months have these elements in common:
Announcements laced with scary, end-of the-world warnings — usually cast in the secretly taped words of the alleged plotters — and crowds of law enforcement suits huddled close together so they all can get inside the TV camera lens as they warn of what might have been if they hadn't been so diligent.
UPDATE: June 10, 2007
Controversy over informants' roles in JFK probe
By Carol Eisenberg
WASHINGTON — He is a twice-convicted drug dealer trying to avoid jail time, according to court papers. At the behest of his police handlers, who tantalized him with the prospect of a commuted sentence, the dealer befriended Russell Defreitas to investigate a tip that Defreitas might be involved in a terror plot against the United States.
The dealer, identified in court papers only as the Source, was so convincing that Defreitas exclaimed that he must have been "sent by Allah" to help blow up the fuel lines at Kennedy Airport, according to the criminal complaint.
By all accounts, the informant gave a masterful performance that appeared to shape the plot's development: After winning the confidence of the 63-year-old Guyanese-born U.S. citizen, the Source repeatedly drove Defreitas, who had no car or money, to conduct airport "surveillance," bought plane tickets for the two of them, as well as a third man, to fly to Trinidad last month, and trumpeted his jihadist sympathies, declaring that the greatest way for a Muslim to die was as a martyr, say court papers.
All the time, he was wearing a wire and was being paid by the government.
Full Article …
UPDATE: June 16th 2007
Terrorism on agenda for PM's US visit
TERRORISM and other security issues will be on the agenda when Prime Minister Patrick Manning meets with US President George Bush next week.