Teenager faces charges
An 18-year-old man is to be charged with exposing lewd material to minors, after he reportedly sent several video clips of pornography to a cell phone belonging to an 11-year-old student of a Belmont primary school.

Investigators have expressed concern as they believe the man may have sent the explicit material to several other children with cell phones, unknown to their parents.
A teacher at the school reportedly made the discovery after the 11-year-old boy's cell phone rang in class last Monday.
The boy's teacher examined his cell phone and found several video clips with explicit pornography on it. The matter was reported to the Belmont police, and then to the Maraval police who serve the district where the child is from.
Full Article : trinidadexpress.com
_______________________
Hotep's Radio Comment: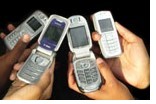 The issue with the child's cell phone having sexually explicit material on it raises several issues that should be debated.
Did the child have a right to privacy? Did the teacher have the right to search the child's cell phone? I am not judging here, just putting out questions.
Sexually explicit material always makes its way into the hands of adolescents. When I was young, boys were sneaking around Playboy, Penthouse and Hustler magazines. Today it is more graphic and passed via computers and cell phones.
If the sexually explicit material was unsolicited, then the issue is also about dealing with spam, like on computers.
Parents can buy basic phones for their children that do not have all those features, but the children could still find other ways to satisfy their sexual curiosities.
There is no easy way around this but to allow youths to learn about, and safely explore, their sexual curiosities thus neutralizing any extreme negative effect that some sexually explicit material can have on them.