www.trinidadandtobagonews.com/blog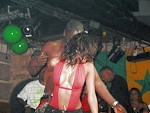 Tonight TV6 News reported that police investigators have closed the books on investigations into the Danah Alleyne/Akon raunchy dancing incident at Zen nightclub.
The TV6 News report said, "According to Deputy Commissioner of Police Winston Cooper, the investigations have reached a stalemate as witnesses aren't coming forward to support the police."

It's been three weeks since police officers launched an investigation into the lewd dancing incident involving the fifteen year old pastor's daughter, Danah Alleyne, and the hip-hop singer, Akon at the Zen nightclub. A video clip of the act was posted on the internet and this sparked a national debate about such conduct and who is to blame.
Comment by L. Paul
Police investigations have closed on the Danah/Akon affair and it is now clear to those who were in disbelief that there was nothing illegal about their dancing as shown in the videoclip. Indeed, as part of police investigations, police would have been looking to determine if the dance was in fact lewd or if it was a prelude to a sexual act. The fact that investigations are at a halt, proves what some of this blog have been saying all along: there is nothing illegal about Danah's dancing, Akon's dancing, or any other similar dancing that take place in Trinidad and Tobago.
UPDATE: Wednesday, May 9th 2007
Police: Investigations into Alleyne/Akon matter closed
trinidadexpress.com
Police have closed the book on investigations into the Danah Alleyne/Akon matter, Deputy Commissioner of Police Winston Cooper says.
"The matter seems to be a stalemate, as the people who are responsible have not come forward to support the police in any way. I would say it is completed," Cooper said during a weekly press conference at Police Headquarters in Port of Spain on Monday.
Below is a clip of Danah Alleyne on the party circuit.
Trinidad and Tobago News Blog's URL for this article:
www.trinidadandtobagonews.com/blog/?p=1694