newsday.co.tt
Friday, April 20 2007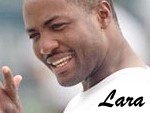 BRIDGETOWN: West Indies captain Brian Lara announced yesterday he will retire from all forms of international cricket on Saturday.
The West Indies captain, who holds the world record score of 400 in Test cricket and 501 in the first class game, was initially expected to quit only one-day cricket after his team's final World Cup game against England at Kensington Oval and continue with his Test career.

After a 20-minute news conference following his team's 99-run victory over Bangladesh and after he had refused several times to discuss his future, the 37-year-old Lara revealed he was giving up Test cricket as well. "If this is the last question, then I'll just say that I want everyone to know that on Saturday I'm going to be bidding farewell to all international cricket as a player. I've already spoken to the (West Indies Cricket) board about it and I'd just like to thank everyone," Lara told surprised reporters.
Lara hinted that Ramnaresh Sarwan should be the next captain.
"He's matured. He's been vice-captain for some time," Lara said. "It's important that whoever gets the job, he gets whole hearted support."
Full Article : newsday.co.tt