December 25, 2009
guardian.co.tt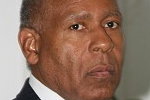 Better roads, health, security, water electricity supply is Prime Minister Patrick Manning's gift to the nation for the coming year. In his Christmas message to the nation, Manning said the Government understood the needs of citizens but patience was required to accomplish some of its goals. He said despite international turbulence, T&T had been able to make progress and remained a further fortified democracy. "We have weathered the most severe international economic crisis since the 1930s, one whose effects continue to persist in most countries," Manning said. He said in the midst of the effects of the economic crisis still being faced by most countries and despite T&T's significant loss of revenue, this country had been able make a "turbulent crossing with greater steadiness than most."

"But we are not complacent, and have already put in place measures to deal with any possible further aggravation in the global economic climate," Manning said. He said the Government had ensured that development programmes were kept on track, including a thriving economy, low inflation, high per capita income, education opportunities for all, housing, poverty reduction and employment generation. "We recognise that much work remains to be done," he said. "We understand the needs of our people and are working to satisfy them," he added. Further singing praises to the Government's achievements, Manning highlighted the successful hosting of the Commonwealth Heads of Government Meeting (CHOGM) and the Fifth Summit of the Americas held recently.
"Through this historic undertaking, our country contributed very significantly to the hemispheric and global agenda," he said. He noted that coming out of the Summit meeting there was willingness for greater collaboration on economic and social issues among nations of the hemisphere. "And from CHOGM, there is now the path for a revitalised and more influential role for the Commonwealth in international affairs," he said. He said as a result of both prestigious events, T&T's stature had been enhanced and this country was now in a position to exercise a positive influence on regional and international issues.
"Very significant economic benefits will also accrue, as is evidenced from the exciting prospects that continue to emerge from the international exposure our country received from the great gathering of political and business leaders in T&T in 2009," he said. He urged the nation to live in love for one another and in the midst of differences to have continued respect, strict adherence to the law and harmonisation with the environment. "Even though we have some distance to travel towards the ideal society, let the words of our mouth and the meditation of our hearts be acceptable in the sight of the Christ whose birth we celebrate," Manning said.
http://guardian.co.tt/news/politics/2009/12/25/pm-pledges-better-life-citizens