Update: December 24, 2009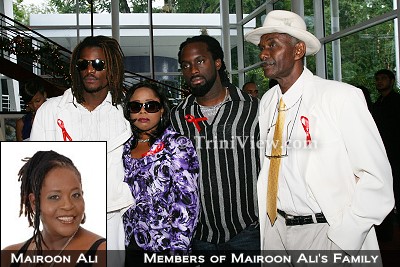 Mairoon Ali's Send-Off: A Celebration of Life in pictures
Mairoon Ali given spectacular send-off
Beautiful! That's the most appropriate word that can be used to describe the celebration ceremony of the life of Mairoon Ali at Queen's Hall, St Ann's, yesterday. An almost packed auditorium of family and friends, who came out to pay tribute and bid a final farewell to a treasured woman, were treated to nothing short of the many colours of Ali. Among the gathering were Ambassador Joan Yuille-Williams, MP for Mayaro, Winston "Gypsy" Peters, Peter Minshall and Minister of Information Dr Neil Parsanlal.

Arts community bids farewell to Mairoon Ali
Olatunji Yearwood wanted to sing one of his songs in tribute to his mother, actress Mairoon Ali, during the service in celebration of her life at the Queen's Hall in St Ann's yesterday. He, however, could not and even when he attempted to sing a verse of 'Royal' by Taurus Riley, the young soca artiste broke down and had to be consoled by his elder sister, Aka Ali.
The service was one of much laughter as well, as reflective moments brought tears to people's eyes when speakers reminisced over their own experiences of Ali through the years.
Fare-thee-well Mairoon
It WAS a celebration of the life of a woman who will be remembered by her colleagues and friends as a pioneer. Mairoon Ali who died on December 20 was paid tribute to in song, words and poetry at Queen's Hall in St Ann's yesterday following which, she was cremated in a private ceremony.
Mairoon Ali found Dead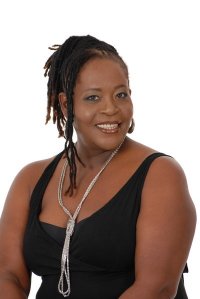 Update: December 22, 2009
Stroke cause of Mairoon's death
An autopsy conducted on the body of actress Mairoon Ali, 55, yesterday, revealed that she died as a result of cerebral haemorrhage. Cerebral haemorrhage is bleeding from a ruptured blood vessel in the brain and is commonly referred to as a type of stroke.
Funeral tomorrow
The life and work of the actress and director will be celebrated tomorrow morning, during a public funeral ceremony at Queen's Hall in St Ann's, Port-of-Spain. There will be a slide presentation from 9 am, after which her family and members of the theatre fraternity will pay tribute to the playwright, radio host and television personality. Len "Boogsie" Sharpe, Mavis John, Penelope Spencer, Nikki Crosby, Ann Fridal, the Malik Folk Performers, 3 Canal and Ali's children are among those expected to deliver tributes. After the thanksgiving ceremony, there will be a private service and cremation for family and close friends at St James Crematorium.
Update: December 21, 2009
Mairoon Ali dies at 55
THE local performing arts fraternity is mourning the loss of well-known actress, comedienne and radio personality Mairoon Ali, 55, who yesterday was found dead in the bathroom of her St James apartment home.
Ali's body was discovered at about 10.30 am by her son, Olatunji Yearwood who is a singer with the band Traffik and who lived with his mother. When the hearse arrived for the body at 3.15 pm several family members and friends including Ali's former husband Edward Yearwood, had gathered at the apartment.
Actress Mairoon Ali found dead in bathroom
She brought joy to many through theatre. She was often the voice of reason on her radio and television programmes, much sought after to host popular events, along with her buddy comedienne Nikki Crosby. An all-rounder when it came to entertainment, Mairoon Ali did it all. Sadly, the life of Ali was cut short when she reportedly slipped and fell in the bathroom of her Carlton Street home in St James, sometime between Saturday night and yesterday morning. She was 54. However, the cause of death is yet to be determined.
Actress dies
Ali's husband, Edward Yearwood, and son, soca artiste Olantunji Yearwood, were too distraught to speak to the Express. However, her stepson, Roland Yearwood, confirmed reports that she was found lying on the bathroom floor yesterday morning. 'From all observances, yes it seems that she fell and hit her head. We don't know what would have caused her to fall.'
More about Mairoon Ali
September 01, 2002 – Sunday Guardian
Mairoon Ali seems to be everywhere. An actress on both stage and TV; she teaches history at Holy Name Convent; is part of the dynamic trio that also includes Dale and Tony on i95.5's morning show; lends her distinctive voice tp radio and TV ads; and writes and enacts skits for various events.
BREAKING NEWS: December 20, 2009
Local personality, Mairoon Ali was found dead in her bathroom late this morning in her St. James apartment by her son, Olatunji Yearwood.