By Stephen Kangal
March 10, 2007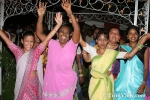 First let me offer on behalf of all patriotic cricket lovers congratulations to Darren Ganga and his Soca Chutney Cricketers for once again running away with the Carib Regional and KFC One day Championships. The Team presents the PNM Government with another opportunity to allow it to compensate and make it up to this team for the shabby treatment that meted it to them for an outstanding similar achievement in 2006. Government awarded the pittance of $1million to sixteen cricketers and technical officials while doling out over $35m alone in prize money to the Soca Warriors losers.

What parade/Civic Reception have we organised to honour our young and talented team of giant killers? Who can explain away this discrimination even in sports when we were told to rally around the Soca Warriors who extracted every ounce of goodwill and are in courts for more.
After defeating the Windward Islands in a thriller no Government official met the team at Piarco upon their arrival. Hitherto all we have had was a verbose statement issued by an acting Sports Minister after the stunning demolition of the Bajans at Guaracara. We cannot afford by statal bungling and discrimination to communicate to all young cricketing aspirants that they will be treated as second class sportsmen irrespective of their prowess and contribution to national pride and solidarity.
This Manning Administration, unwilling and almost impossible though it may be, must break out from the shackles of its discrimination-configured DNA in treating with matters relating to the welfare of non-African nationals. Witness the plight and trauma of cane farmers and former Caroni workers today.
Government knows that cricket is the most expensive spectator sport to play. To boast that it was awarding to the women cricketers the same $1m that it gave to our Senior Championship cricketers is downright stupid and an example of discrimination in sports. But then this Government is an exponent in the art of rationalising discrimination.
Why is the PNM government not acting with an even hand with our cricketers and decanting millions to football? Is it because there are too many Indo-Trinboganians in the victorious cricket team and the Soca Warriors had the politically correct ethnic mix?
I stand for justice and equality in plural T&T.